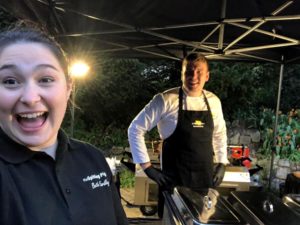 Recently, the Hog Roast Silverstone team were hired by Steven for an event he was hosting at a private home in Princes Risborough. The event featured the classic hog roast menu and the team presented the whole hog on the buffet table for the guests to admire. The traditional spit roasting method gave the hog a slightly charred effect which gave the meat a fantastic, authentic taste.
The client, Steven, selected the Hog Roast Silverstone team's Menu Three which featured a whole hog which was slow roasted on a traditional spit to ensure that all of the meat was evenly cooked. The meat was served with the classic sides of apple sauce, stuffing and crispy crackling. In addition, a selection of sides were served to compliment the meat. These included a tomato and mozzarella salad, a mixed salad, classic coleslaw and delicious new potatoes in melted butter. Furthermore, as an alternative to the meat, a vegetarian option of lightly grilled vegetable and halloumi skewers which was served with pitta breads and a Tzatziki dip. The food was served with a selection of bread rolls, wraps and cheesy bread. The food itself was served on disposable crockery which the Hog Roast Silverstone team cleared away discreetly after the service along with any other waste from the buffet.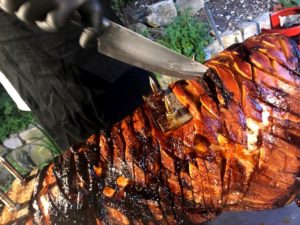 The fantastic buffet was served to 80 guests so important that the Hog Roast Silverstone team served all of the guests at the same time. They served the food from 8:30pm so it was important that the team were quick so that the food stayed hot. The served was led by Hog Roast Silverstone team's Catering Manager, Ben, who was really proud of the service he delivered. The team was made up of Ben and his wife, Beth, and they worked really well together to deliver some fantastic food. The Catering Manager professionally carved the meat on the buffet table. The buffet appeared really professional to the guests as the bread was served in wicker baskets and the salads were served in wooden dishes to help give the colourful buffet a rustic feel.