The Northampton Hog Roast Catering Company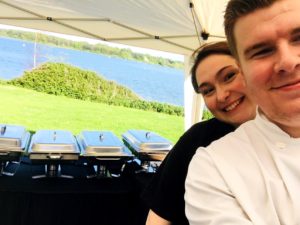 For many years now, we've been the highlight of many a party in Northamptonshire, from Corby to Towcester and further afield, as we're actually based all over the UK too. When it comes to fantastic food catering, we have the experience, dedication, and ability to make your special occasion more memorable.
The team starts with myself Ben, and alongside my wife Beth we run Spitting Pig Northamptonshire. It all started from me helping out my father-in-law Russ with his hog roasting business, I was in awe at what he did and instantly loved it. Seeing the customers reactions to the unique flavours that we produced was amazing. I spent a number of years working with Russ, learning the tricks of the trade and developing my skills until a few years ago I was ready to launch my Hog Roast Northampton business. I haven't looked back since!
It's our aim to ensure that your party has tasty, fresh, quality food cooked and served by professional staff who love what they do, whether we're catering a birthday celebration, wedding or a huge corporate event.
A Traditional Culinary Experience
Hog and spit roasts have been around since time immemorial. Since the invention of fire, there will have been some kind of meat roastings, and you can imagine cavemen trying to figure out how to do this while making sure the meat cooked thoroughly and they didn't poison themselves. Thankfully, cooking has evolved well over the years and these days, roasting meat can be trouble-free, especially when using our own hog roast machines that we designed ourselves, as they make it a pretty simple procedure. We prepare the meat, turn the gas-powered machine on, and keep an eye on it as it roasts away to perfection. See, we said it was easy!
In the past, this kind of catering was often reserved for the wealthy, and even in recent times, hog and spit roasts were usually popular for bigger or posher events, but not today. Nowadays, it is suitable for any kind of celebration or commemoration that you may have in mind – from an engagement party to a baby shower or a school fête. There may only be a sprinkling of guests invited but that doesn't mean we can't cater it; in fact, we will cater any number of people, from one to even thousands. Over the years, we've happily catered all kinds of occasions and varying numbers, so don't be put off if you're planning an intimate gathering with your friends or family, and don't think that we can't cater a huge number, as we can do either and often do in this county.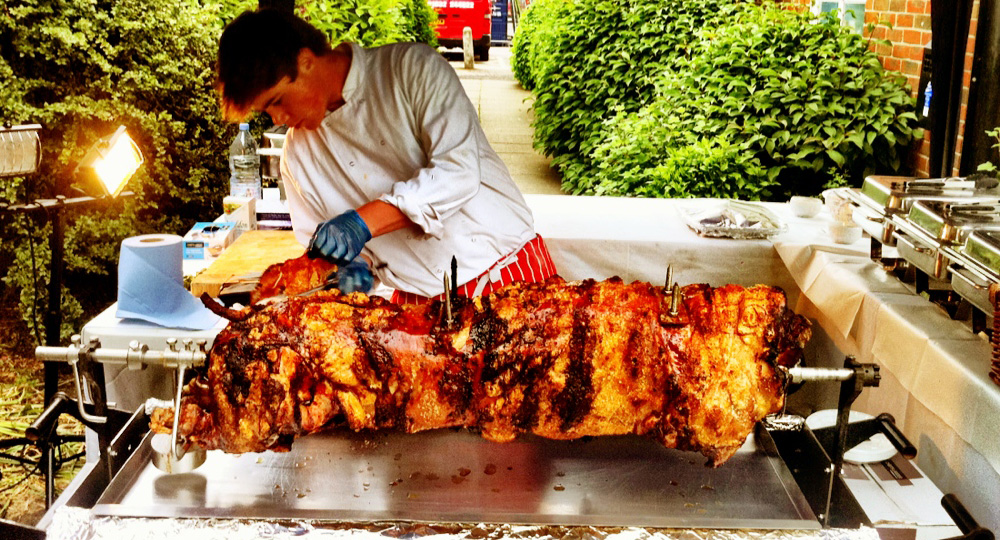 When it comes to our delicious food, you'll see that we have many menus available but they are guidelines more than anything. If you have any ideas or if you want to adapt one of our menus or even create your own, that's more than fine by us and we can help you to do so. Maybe you're having a business event in Brackley and you want to combine our menus or you're marrying at Brampton Grange or All Saints and you want your wedding reception to feature a menu you designed yourself; whatever the occasion, we can help you to feature the food that you want your guests to enjoy, and that doesn't actually have to be just hog or spit roasts. While we are passionate about our roasts, we can bring so much more to the table, from a gourmet barbecue to a 4-course meal with canapés and champers to start or a selection of vegetarian, vegan or gluten-free options. Your wish is our command!
Fantastic Catering Teams
At Hog Roast Northamptonshire, we have a brilliant team of staff, and you'll see that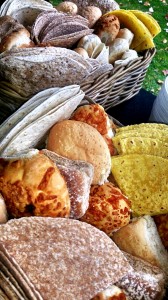 from your initial contact with us to the actual day of your event. The sales team member who first answers your query or gives you a quote will be happy to help you with anything you need in advance of your booking and our professional chefs and waiting staff will work their magic when cooking and serving your scrumptious food, whether that's our simple but tasty pigs in buns or an extravagant feast. All of our customers are treated the same, whether your budget is huge or small and whether you have an intricate menu or a basic one, and that's also why we have so much to offer for those guests with additional dietary requirements too. We simply want everyone to enjoy our food.
DIY Hog Roast Catering
If you want to be your own own caterer for the day or even for longer, it may be useful to know that we also rent out and sell our machines and include a delivery and collection service all around Northamptonshire, as well as all over the UK. When dropping off the machine, we walk you through how to use it and we can even provide the locally-sourced meat if you need. Before you know it, you'll be a pro at roasting your own hogs, chickens, turkeys or so much more.
So if you need us to cater for you or if you prefer a DIY, contact our sales team for a quote today!