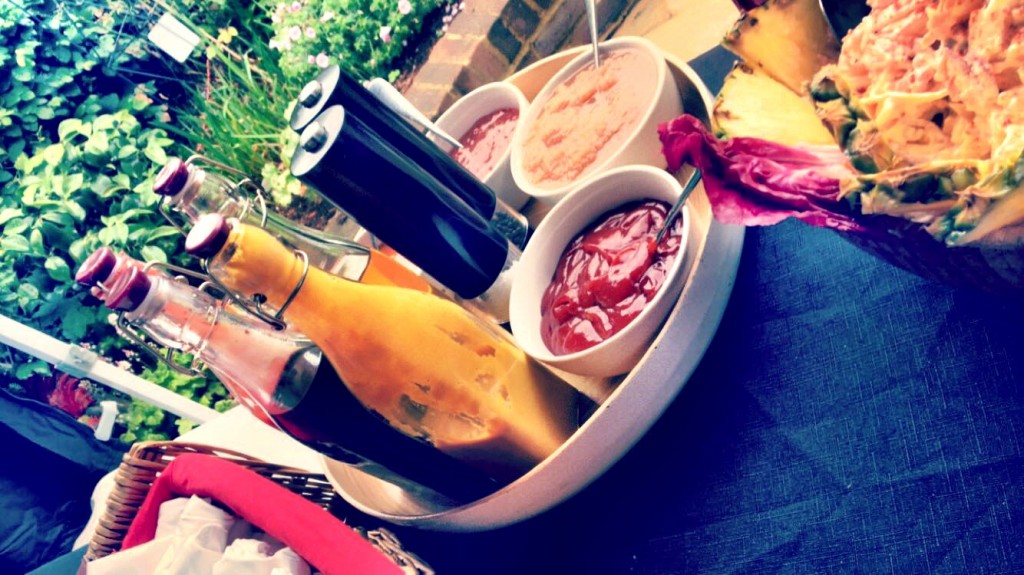 Here at Spitting Pig Northamptonshire, we pride ourselves on providing our customers with outstanding service at the same time as delivering excellent results. While we offer several services, including machine hire and purchase, the results we're talking about here is our fabulous food catering. Don't let our brand name fool you, as we don't just offer hog roasts when catering for parties and events around the country. It's our forte, of course, and we've perfected the art of roasting pigs to perfection over many years, but it's not all we can do and it's not all that we are known for…
We can spit-roast different kinds of meat instead (from chicken to turkey to lamb or whatever you have in mind). If you prefer a barbecue instead, we can cook you a gourmet sausage fest and add some of our 100% beefburgers and veggie skewers too. Talking of veggies, we have several homemade choices for vegetarians and vegans that have proven to be very popular and we ensure they're available because we want all of your guests to love our food, not just the carnivores. If any of your guests have any other kinds of dietary restrictions, like gluten intolerance for example, we can always accommodate you as long as we have advance notice.
You'll see that we have various menus listed but they are more suggestive and not at all absolute. We'd love it if you created your own menu, which we can help you with, because we know that everybody has different tastes as well as wants and needs for their party or event. You can design your own bespoke menu or you can combine ones of ours to make the menu that you truly want.
Diverse Catering Specialists
Whether you are planning your milestone birthday shindig in Rushden, your wedding reception in Oundle, or a corporate get-together in Brackley (or any other kind of occasion that you can think of), The Spitting Pig Northamptonshire team will go the extra mile to help you make it a success. We've catered for so many different kinds of parties and events over many years now, and not just in Northamptonshire, as we are based all around the country. From a romantic engagement to a cute christening celebration and a cheeky hen do to a bittersweet farewell party for an emigrating family, it's clear that these days a hog or a spit roast is truly suitable for any kind of gathering. In the olden days, it was only for the well-off and even in recent times, it was seen as an expensive extravagance. If you contact us for a quote for your event, you'll see that it's actually an affordable luxury, in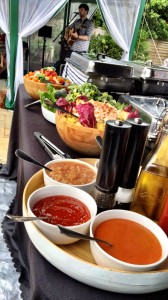 particular for large events, where it works out an extremely economical way to feed your guests.
If you're based outside of Northamptonshire, there's no reason why we can't cater your social event; we just need prior notice so that we can work out the finer points. Some customers have also been concerned that they have too few or even too many guests for us to manage, but we can actually cater pretty much any number that you need. We've catered intimate occasions with just a few people and we've catered huge parties with hundreds of guests, and being specialists, we do either with ease, professionalism and dedication. You get the same excellent service from us whether you have 3 guests or 300.
We've had many thumbs up from lovely Northampton locals and we get a lot of repeat bookings, which is a great compliment. The main reason for this is, of course, our delicious food, and we're often found beaming at the end of the night because of the number of people who especially loved our roasted meat. Another reason is that our professional, friendly team members take the stress away from you when catering your occasion, so you can spend more time relaxing with your guests and eating the same food your guests are enjoying, and with no washing up waiting for you at the end of the night! It can be really stressful planning a party, never mind having to deal with making all of the food and worrying about cleaning up afterwards too, which is why The Spitting Pig Northamptonshire is your ideal helping hand.
Beautiful Flavours
Everything is prepared at your venue fresh on the day, including the meat, which we roast from scratch, and we use only excellent-quality ingredients, again including the meat, which we source locally and from quality farmers and butchers. If you're planning an event or party and would like a huge variety of choices, affordable options, dedicated staff and some of the tastiest food you've ever tried, contact our sales team for a quote today!