We've made it super-easy for our customers in Northamptonshire (and around the country) to get in touch with us, as we know that there can often be nothing more frustrating than trying to find the correct contact details for a particular business. If you're thinking of using our services, you have the choice of calling us, emailing us or filling in our online booking form, and you'll find instances of all of these all over our website, so you can be sure of always having our details to hand when you need them.
If you prefer to call, you'll be greeted by one of our friendly sales team, who can walk you through our options and help you with anything you might need. While this is the fastest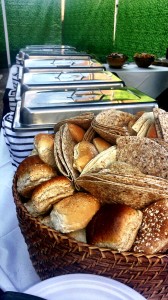 way to speak to us on a working day, you may prefer to contact us out of hours by emailing or using the online form, or of course you may find it easier during working hours to use either of these ways. We really don't mind which option you use to contact us, and we will endeavour to reply as soon as possible. When you contact us online, whether by email or online form, this is usually the same working day or the following working day.
Our online booking form is quick and easy to use, as you just need to fill in a few personal details, as well as simple details about your upcoming event or party (like the date, number of guests and location). If you have any special requirements, like perhaps some of your guests have additional dietary needs or if you're not sure of numbers or location as yet, you may prefer to email us at [email protected] with all the specifics instead.
Whether you ask for a quote once or a dozen times, we don't charge for them of course, and we are more than happy to help you create the event that you dreamed of – in terms of delicious food, that is!
No matter where in Northamptonshire you're planning an event or party, from Olney to Wellingborough, or elsewhere around the UK, let us take the stress of the catering off of you. We also hire out and sell our own hog roast machines, and you can use any of the above ways to contact us for a quote, too.