Have you ever fancied yourself as a budding hog or spit roast chef? Have you often thought about roasting your own meat from scratch, outside in the Northamptonshire air, the tantalising aromas teasing you because you know you'll have to wait until it's perfectly done before you can dig in? If you really want to impress your guests, whether you're inviting your friends, family members, colleagues or employees to your party or event, you can do so with one of our fantastic hog roast machines. Many Northamptonshire residents know us for our highly popular catering services but what you may not know is that we also build our own machines and we rent them out to both professional and domestic cooks. We even sell them all over the world.
Hog And Spit Roast Catering Equipment
Whether you want to cook your own hog roast for a family birthday in your Banbury back garden or spit-roasted chickens for your corporate function in Daventry, or perhaps you're a caterer yourself and you want to hire a machine for one of your own events, you can see that The Spitting Pig Northamptonshire can easily help you to achieve that.
A hog or spit roast really is suitable for any kind of personal party that you can think of, as well as wedding receptions and corporate events. If you want to go all out and wow your guests, a centrepiece hog roast or a row of golden-brown turkeys that you cooked yourself will certainly do the trick. Plus there's no need to let your guests know how easy it was to cook the food, either; that can stay between you and me!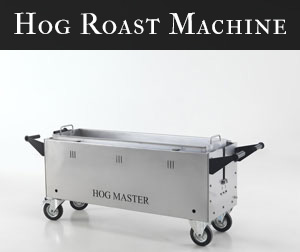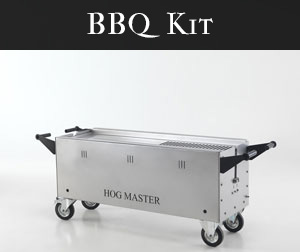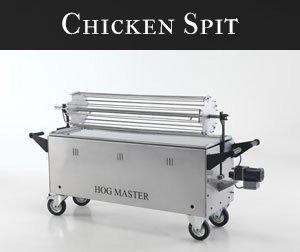 When it comes to hiring our equipment to cook a hog roast, you're in great hands, as we have many years of experience and we're passionate and dedicated to the modern way of roasting all kinds of meat. With the help of one of our machines (and a little guidance from us in advance), you can easily cook your guests the most succulent, tasty, tender slivers of meat and salty pieces of crispy crackling after watching the beast roast away for several hours. We say 'easily' because it truly is, as once the meat has been prepared, you turn the machine on, set the temperature and then it'll roast to perfection. The rest of the process is just you checking on it sporadically to ensure that it's cooking through. That's it! Compared with what people would have had to go through in bygone times to ensure their meat was cooked properly (let alone the fact that they had to hunt, catch and kill it first), I'll happily stick with our top-class equipment any day.
It's not just pigs that you can roast with our equipment, however. Spit roasting is likely to be the oldest form of cooking meat and long ago they were each powered by a servant who had to turn the metal rod again and again and again… Nowadays, thankfully, we have the capabilities of providing our customers with the chance to cook their own meat using one of our hog roast machines, but with the spit attachment added and this way, you can effortlessly cook a chicken, turkey or a joint of meat instead of a hog.
You may be thinking that renting one of our gas-powered hog roast machines is expensive but we do in fact have very reasonable prices and cooking like this is a really economical way to feed your guests. We should also add that not only do we include a drop-off and collection service when you hire one of our hog roast machines in Northamptonshire and beyond, you also get our expertise as part of the package. We won't just deliver the machine and leave you to it; we explain how to use it and also leave you with detailed instructions. If you aren't sure where to source your meat, we can even provide this service, as we have trusted suppliers who we use when catering social occasions, and they supply us with quality animals and birds. We can bring along enough meat for your requirements and we'll then look forward to hearing how you got on when we pick the machine up after your party.