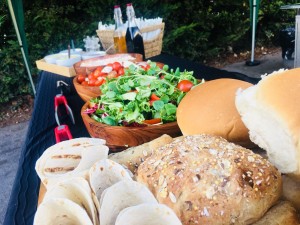 Regardless of whether you are hosting a family party, a wedding, or a corporate event a spitting pig feast is a great option. It provides an easy, and impressive, way to feed your guests without you having to spend a huge amount of money to do so. The Spitting Pig Olney team has been cooking and serving up hog roast feasts, for many years. As a result, we know exactly how to make sure that your guests enjoy the food, so you can relax and enjoy your party.
An Impressive Hog Roast Feast
Opting to let us cook you a hog roast is an easy way to provide lots of high quality, and tasty food for your family and friends. One medium sized hog can easily feed 80 guests. For bigger parties you can just ask the Hog Roast Olney team to cook more than one spit roast pig, or to provide you with other meats.
The modern spit roasters we use enable us to cook beef, lamb, turkey, whole chickens and other meats to perfection. If you want to serve burgers, sausages and other barbecue favourites we can do that too. Our experienced chefs can cook in practically any style.
As well as roasted meats we offer a range of finger foods, salads, vegetarian dishes,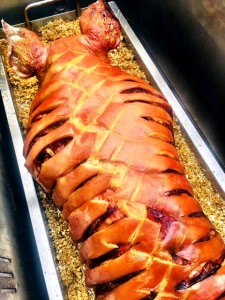 potatoes, rice, pasta and desserts. Using a range of sauces, seasoning and gravies enables us to create culinary feasts that replicate the tastes of practically any cuisine.
How all of this food is served is up to you. Our chefs will happily carve the meat and serve it in traditional hog roast style or plate it up with vegetables and potatoes as a roast dinner. If you want to you can also hire front of house and waiting staff from Spitting Pig Olney.
Cook Your Own Hog Roast Feast
Another option is to hire a spit roaster from us. We show you how to cook your own succulent spit roasted meats, and will even clean the machine afterwards.
To hire the Hog Roast Olney team all you need to do is to get the ball rolling by asking us for a quote. The easiest way to do this is to fill out the form that is provided on this site.