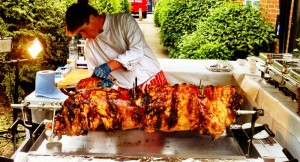 If you are planning to host a Hog Roast in Corby, or the surrounding area, you are in the right place. We have been cooking spitting pig feasts here for more than ten years, so have the experience you need to provide your guests with wonderful party food.
More Than Just Hog Roasts
The fact that so many people enjoy a hog roast means that most of our customers still ask us to cook this style of celebratory food. However, the Spitting Pig Corby team likes to please, so moves with the times.
Over the years, we have developed an extensive menu of party foods. Whether you want to serve your guests a formal sit down dinner, a fun hog roast feast or a carvery or a traditional buffet we can do it.
Our professionally trained chefs know how to spit roast or barbecue most types of meats. All you need to do is to choose whether to have spit roasted beef, gammon, hog meat, chickens, turkeys or lamb joints served at your event then leave everything to us.
We can also provide steamed vegetables, potato dishes and a range of stuffing, gravies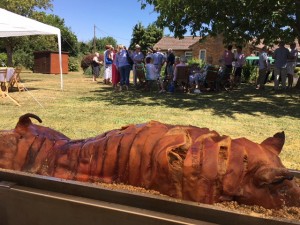 and sauces. If you prefer, we can also supply canapés, salads, side dishes and desserts.
It does not matter whether you are hosting a party for 10, or 300, guests the Hog Roast Corby team is here to help. We make sure everyone is looked after, including those with special dietary needs.
Do Some Of The Cooking Yourself
However, we know that some of you like to do the cooking yourself. Therefore, if you want to, you can hire a hog roaster from us and prepare you own succulent spit roasted meats. If you have never cooked like this before we show you how to do it, and can even supply the meat, if you want.
Getting a quote from Spitting Pig Corby is easy. It will only take you a few minutes to fill out the form on this website. Once we have agreed the price and you have chosen the dishes that will be served you can relax and leave the rest to us.