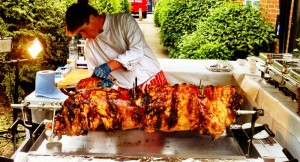 Whether you are planning a family wedding, a golden anniversary dinner or a corporate event, you want to make sure that all of your guests are well fed. That is where the Spitting Pig Brackley team comes in.
For more than a decade we have been providing hog roast feasts, and other party food, in and around the area. Our experienced chefs and catering staff know how to ensure that every guest goes home full of great food and with good memories.
An Amazing Choice Of Party Food
It does not matter what type of event you are planning, or how many guests you are inviting, we can provide you with all of the food you need. Everything we cook is made from the finest ingredients, the majority of which we source locally.
When you hire Spitting Pig Brackley, catering for your guests is as simple as making a phone call. All you need to do is to select the food you want from our extensive menus, and tell us the date of your event. We then work out how much of each dish you need, cook it and serve it in the way you want.
As well as a team of chefs we have waiting staff, so if you are hosting a wedding or a formal event your guests can be served a hot meal, for example a roast. For other types of parties you may prefer us to serve a selection of roasted or barbecued meats, accompanied by finger foods and side dishes. This can be laid out as a buffet, or plated up by serving staff.
Our Cook Your Own Option
The spit roast machines we use are state of the art. They have been designed to be extremely easy to use. This means that we offer you the chance to hire one from us, and cook your own whole hog or other spit roasted meat joints.
To hire the Hog Roast Brackley team all you need to do is to take a few minutes to fill out the quote form. We work hard to stay competitive and make it easy to feed all of your guests even if you are working with a tight budget.