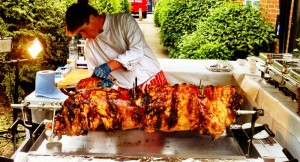 If you are looking for party food, you are in the right place. The Spitting Pig Towcester team is here to provide you with a fantastic spread that does not cost a fortune.
Over the years, we have catered for many events in the area, including weddings, christenings, engagements and corporate events. When you hire us you know you are in good hands.
A Flexible Approach To Party Catering
Our, highly trained, professional chefs really enjoy their work. They are always looking for new dishes to add to our menus so that they can delight you and your guests. This means that we have been able to develop an extensive menu that includes canapés, vegetarian dishes, salads and desserts, as well as a range of spit roasted, or barbecued, meats.
All you need to do is to select the menu that you think suits the tastes and dietary needs of your guests the best. It is even possible for you to swap some dishes out to further tailor the menu.
On the day, our catering team will arrive early to set everything up, so that the food is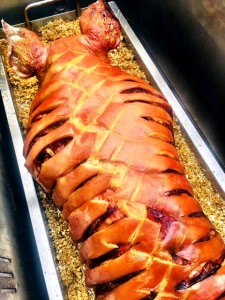 ready on time. They will then serve the dishes that they prepare in any way you want.
If you just want the delicious spit roasted meats pulled from the bone and served simply in rolls with stuffing and apple sauce we will happily do that. However, there is also the option for the food to be plated up and served to your guests at the table, by our team of waiters. It is also possible for the Spitting Pig Towcester staff to lay everything out on a buffet table, so that your guests can help themselves.
Cook Your Own Spit Roast Food
For those who want to be more hands on, there is also the option to hire a spit roaster from Hog Roast Towcester. When we deliver the machine to your chosen venue we explain how to use it to cook everything properly.
To hire the Hog Roast Towcester team for your next celebration just fill out the quote form. We will quickly get back to you to confirm our availability and give you an accurate price.