Wedding celebrations come in many forms, ranging from the pre-party celebrations, the ceremony, and after parties! At Hog Roast Biggleswade, we have a variety of menus that are ideal for this occasion, depending on the formality of the event. Whether you require a sit-down meal or a casual buffet, our team are on hand to help. Here is just one of our many menus…
Hog Roast Biggleswade are often hired for wedding celebrations and ceremonies, so we were more than happy to get involved with Bradley's stag party this March! Our catering manager Ben was hired to provide a meal for 30 guests to enjoy, including a variety of tasty sides. The menu needed to be a relaxed occasion, with buffet serving and disposable plates being the ideal level of formality for the event. After looking through our menus, it was decided that our classic hog roast buffet was the perfect menu for the stag party.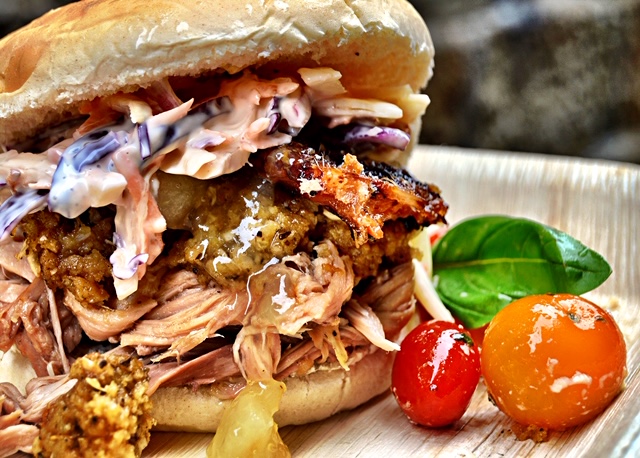 Ben and the Hog Roast Biggleswade arrived at Willow New England Farm with plenty of time to prepare the menu for the 19:00 mealtime. We began by roasting the hog, which took approximately five hours to roast to perfection. Once the meat was full of natural juices and flavours, it was expertly carved and served with a selection of fresh bread rolls and wraps, including gluten-free alternatives. For the meat-free guests, we also prepared halloumi and vegetable skewers. The main dishes were served with a variety of tasty sides, including homemade chips, crispy crackling, sage and onion stuffing, and seasonal salad dishes.
Overall, this menu created a delicious meal and there was something for every guest to enjoy from what we had to offer! This stag party was a great event to be a part of and we are looking forward to hearing about the big day!
With over 7 different menus to choose from, Hog Roast Biggleswade have everything you need to provide delicious catering at your next party or event! To book in today, simply let us know your party size, date, and location and we can do the rest. We hope to hear from you soon.