Spitting Pig Northamptonshire love to help customers celebrate all kinds of occasions, from small affairs to large events, in just about any location that you can think of. We use our own machines that we hand-build, and they run on gas bottles and are highly portable, so we can even take them to remote locations to cater parties. For a recent event in the lovely neighbourhood of Gossops Green, slightly out of our usual area however, there was no need to transport our equipment anywhere remote, just to a lovely local primary school.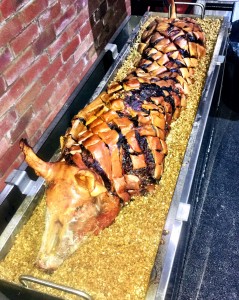 On Friday, our team at Spitting Pig Northamptonshire headed to Gossops Green Primary School to cater an evening event for 120 guests. No school dinners for these guests, though! It had been organised for us to provide our excellent Private Party Menu Option 3, which includes a freshly-roasted hog, that we prepared on-site and cooked until it was perfectly browned on the outside and tender and moist on the inside. In addition to the meat that just fell off the bone after we had cooking away for several hours, the guests were treated to lots of the salty crackling (produced by us covering the skin in plenty of salt before roasting), as well as our apple sauce and sage and onion stuffing. By the time it was ready to serve, the very good-looking beast was laid on a bed of the stuffing and almost looked too good to eat! But that's not the only food that we provided for this event, as there were more dishes served as part of the large buffet. We laid out several salad dishes that we freshly prepared on the day, a tray of warmed, herby new potatoes, as well as bread rolls and plenty of condiments. No one was going hungry at this party!
With an event like this, the price includes the use of our serving tables, the disposable crockery and lots of napkins. Here at The Spitting Pig Northamptonshire, our chefs and catering assistants always go the extra mile to ensure your event or party is a great success, and just like the guests at Gossops Green Primary School, your tummies will be satisfied with plenty of our scrumptious food.