The Hog Roast Roade team had their hands full over the weekend after having been asked to handle the catering for an event which attracted hundreds of families from the local area. Taking a break from their duties, RAF Mildenhall showed a more relaxed side of themselves by opening their doors and inviting 400 members of the community to join them in an afternoon of fun, consisting of a slap-up meal and plenty of family-friendly entertainment!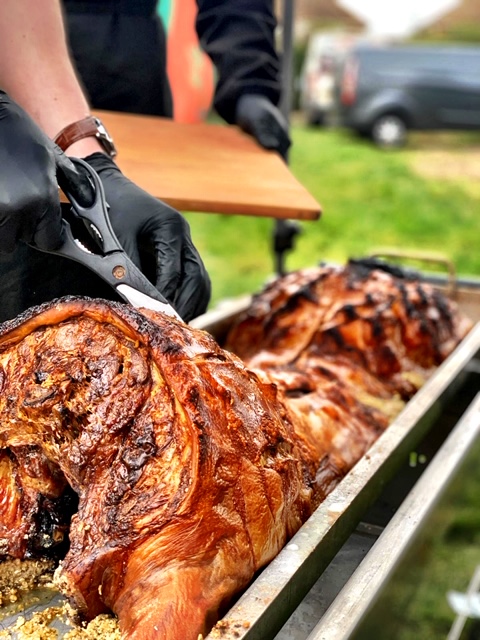 To complement the exciting day, the client, of course, needed an equally impressive menu and luckily for them, boring isn't in our repertoire! After ringing up Hog Roast Roade, the client was able to discuss our range of menus in full detail with one of our catering managers who helped them settle on our corporate hospitality menu 4.
Great for any gathering, big or small, the menu covers everything from the food and crockery to a team of bubbly waiting staff which makes things easier for our clients and ensures their events run as smoothly as possible. Happy with their decision, the client left us to it and on the day of the event Hog Roast Roade arrived in our usual timely manner to get started on preparing an unforgettable feast.
Instead of the military-grade jets that RAF Mildenhall is famed for, the hangar was filled with a bouncy castle assault course, inflatable props and Hawaiian dancers. Hog Roast Roade set up our cooking equipment and a row of serving tables at the back of the building which were soon covered in vibrant bowls of pasta salad, mixed salad, Caesar salad and fluffy roast potatoes. For the main courses, they had prepared one of our mouth-watering slow roasted pigs with homemade sage and onion stuffing, applesauce and crispy crackling; along with grilled veggie skewers with flatbreads and tzatziki dip as an alternative for vegetarians and vegans.
The hangar was soon teaming with happy guests who revelled in the chance to experiment with unique flavour combinations by stuffing the soft floured gluten-free rolls and wraps full of juicy meats, flavour-packed sauces and tasty sides which they couldn't seem to get enough of!