When you think of a traditional Hog Roast Towcester, what is the first thing that springs to mind? Meat, meat and more meat of course! However, many people are surprised to learn this relaxed and sociable way of cooking can be enjoyed by everyone, not just meat lovers.
Here at Hog Roast Towcester, not only do we cater for all events and occasions, we also cater for all dietary requirements. We believe food should bring people together, rather than set people apart because they have different preferences and needs. Our caterers take pride in creating delicious and imaginative meat-free options for our vegetarian clients, as well as ensuring the needs of those with food intolerances are always respected. Our considerate and inclusive approach ensures no one is left on the side-lines with a rumbling stomach.
It gave us great pleasure to demonstrate our crowd-pleasing versatility when we were recently asked to cater for a 30th birthday in Towcester. Our client Mark wanted to arrange a surprise party with a traditional hog roast for his partner Claire, who is a massive pork fan and self-confessed crackling addict. Mark was in no doubt Claire would love it (and indeed she did!), but his concern was, out of the 100 people on his guest list, 30 were vegetarian and 2 were gluten intolerant. How could he give his partner an unforgettable birthday feast and still manage to accommodate everyone else?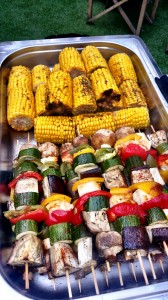 Mark soon realised he had no cause for concern when we showed him our extensive range of vegetarian options and after talking it through with us, he decided on vegetable skewers, corn on the cob, vegetable quiche and a selection of fresh, crunchy salads. We also assured him that we would provide an ample supply of gluten-free bread-rolls for his two guests who had this requirement. With a menu to suit everyone, Mark could stop worrying and look forward to the celebration.
On the day of the party, we arrived at the venue promptly and ensured everything was prepared for Claire's Hog Roast Towcester birthday surprise. Needless to say, she was thrilled when Mark led her into the room and she saw the feast that awaited her, especially as all of her loved ones were there to enjoy it with her. The vegetarian guests were equally thrilled with the range of meat-free dishes we had carefully prepared for them. The birthday girl had a fantastic day and our versatile menu ensured everyone was happy, included and above all, well-fed.