Hog Roast Towcester recently catered for Jane, who had a private party held at her house. While we are often asked to cater special diets, for Jane's party we would be providing the food for 60 guests altogether, including two pescatarians, three vegans and five vegetarians. Dietary requirements are part and parcel of the world today, whether for customers and guests who need to adhere to them for their health or who choose to follow a particular diet because of their own beliefs. Regardless of the reason, we believe that everyone should get to enjoy our fabulous food, and that's why we offer various menus and plenty of alternatives too.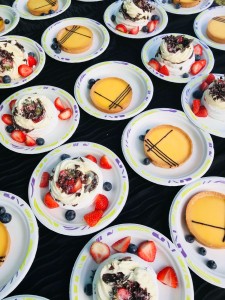 For the majority of guests at Jane's afternoon party, we would be providing a delicious barbecue. You may be surprised at this, seeing as our name is Hog Roast Towcester, but while we often cater parties and events with a hog roast or a spit-roasted animal or bird of choice, we can also offer so much more. It's not just special diets that we can cater, it's also personal tastes, so that means if you fancy something other than a roast, we can do that too!
With our Private Party Menu Option 4, in terms of a meaty option, you can choose from several main courses, including a slow-roasted hog together with crackling, apple sauce and stuffing, a free-range chicken slow-roasted and served with chipolata sausages, slow-roasted sirloin of roast beef with horseradish sauce, Yorkshire puddings and homemade gravy, a slow-roasted spring lamb with rosemary, mint and a mustard and dill sauce, a whole-roasted turkey with fresh cranberries and stuffing, Thai chicken kebabs and marinated spare ribs or, like for this party, a barbecue with our chef's own gourmet sausages and handmade beef burgers.
Our Hog Roast Towcester Chef Ben and his team worked hard to provide plenty of scrumptious food on the day of Jane's party, to suit the carnivores as well as the pescatarians, vegans, and vegetarians. In addition to the barbecue, we provided garden-fresh salads, including tomato and mozzarella, mixed leaf and Caesar, and we roasted lots of new potatoes and even served some lush desserts which almost looked too good to eat – almost! Like the rest of our food, they were devoured with relish.