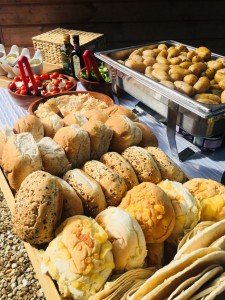 Hog Roast Kettering is known both locally and further away as top hog roasters who always go the extra mile to ensure our customers are more than satisfied. This means that in addition to hog roasts, we offer so much more as well, and with plenty of additional and alternative options, it means all of your guests will be able to enjoy our delicious food.
For Matthew's private party at his home in Kettering recently, with 85 guests, we were asked to serve our scrumptious Menu 3. This menu features a slowly-roasted hog, complete with crackling and served with our own tangy apple sauce and tasty sage and onion stuffing, as well as warm new potatoes in herb butter, three freshly-prepared salads and a selection of fresh bread rolls and sauces. However, we were also asked for extra dishes and for this party we would also be serving veggie skewers for the vegetarian guests and a whole salmon.
On the day of the party, our Hog Roast Kettering chefs Ben and Beth arrived several hours before service, to prepare the hog and watch over it as it roasted away slowly. We prepped the meat by scoring it all over, adding water and smothering it in salt, and the latter part ensures the crispy crackling that our customers can't get enough of. While the meat was sizzling away, we could enjoy the lovely weather for some time before starting on the other dishes. Soon enough, it was time to cook the salmon and new potatoes and to grill the veggie skewers. Our skewers are full of fresh vegetables including mushrooms, peppers, tomatoes and red onion, as well as chunks of halloumi, and can easily be made vegan by leaving out the cheese.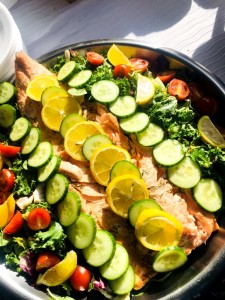 By serving time, we had dressed the salmon with lemon and cucumber slices and it was accompanied by fresh lettuce and cherry tomatoes. We had put together our homemade coleslaw, a tomato and mozzarella salad and a green leaf salad, made sure the veggie skewers had cooked through and let the hog rest a little while before carving. Our sauces were beautifully presented in jugs and the serviettes were in a lovely lidded basket and we had a variety of fresh bread rolls, included seeded and cheese-topped, as well as wraps, for the hungry guests. By 5pm, it was finally time for Hog Roast Kettering to serve.