If you've happened to use us locally, as many locals do, you may think that Spitting Pig Northamptonshire is an excellent caterer for your special occasion and that we're just a one-off company that caters just in this area. So you may be surprised to find out that we are actually based all over the country. When Spitting Pig Cambridge needed us to cover a wedding reception meal for Anna recently, our professional team headed east to start cooking a lovely, succulent pig for several hours before serving time.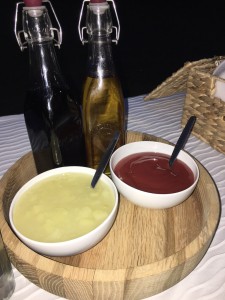 The average-sized hog takes about six hours to cook to perfection and it can take longer in the winter months and in windy locations. Now that it's spring, however, and we didn't have to contend with any fierce winds, we didn't have to add any cooking time on to this beast. The bride and groom wanted us to cook our delicious pigs in buns (that's what we call our hog roast rolls) for a hundred guests, and an average pig will give each of the guests enough to have two of them – the fresh-floured bread rolls stuffed to the brim with pork, crackling and the tasty accompaniments of our homemade apple sauce and homemade stuffing.
After setting up our equipment at the venue, Hog Roast Northamptonshire prepared the meat for its roasting by scoring it and adding water and salt. The salt ensures the skin turns into crispy, crunchy (and, of course, salty) crackling. While the machine cooked the meat inside out and through and through, we just had to keep an eye on it.
The hog filled the surrounding air with tempting smells that attracted many of the wedding party over to see when it would be done and when it finally was, it was evening time. It was a very clear night where you could see the stars and the full moon in the sky, which was an added bonus for the delightful bride and groom.
Hog Roast Northamptonshire served 100 guests in around 45 minutes, and they devoured the whole pig. The bride and groom both loved the food as much as their guests and they said they hoped to book us again in the future.