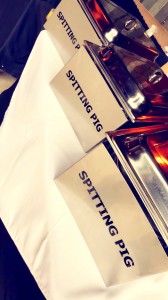 Holding a party is a great opportunity to get everyone together and have a good time. The only drawback is that feeding so many people can be stressful. Often the host is so busy that it is hard for him or her to find time to relax and enjoy the company of their guests. Fortunately, the Spitting Pig Banbury team is here to help.
Regardless of how big, or small, your party is, we can take care of cooking all of the food for you. All you need to do is to tell us what you want served, then sit back and relax while we do all of the necessary work.
Fantastic spit Roasted Meats
For many years, we have been providing fantastic spit roast feasts. During that time we have catered for weddings, birthdays, corporate dinners, and many other types of events.
As a result, our chefs and waiters are very experienced. They know how to time everything so that the food is cooked to perfection, and served at the right temperature.
You can opt to have a simple hog roast served in baps with apple sauce and stuffing, or let us treat your guests to a huge buffet or sit down meal. Our chefs have the necessary skill and equipment to spit roast, or barbecue, virtually any type of meat.
We also provide salads, side dishes, canapés, desserts and a long list of other types of food. All you need to do is to tell us what you want served and leave the rest to us. At Hog Roast Banbury, we pride ourselves on being able to cater for all tastes and dietary needs.
Hire A Spit Roaster From Us
Alternatively, for a small fee, you can ask the Spitting Pig Banbury team to lend you one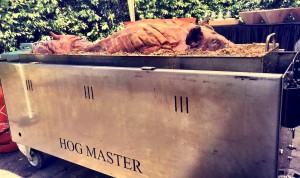 of their spit roast machines. Using it, you can cook your own succulent meats and impress your guests with your cooking prowess.
To hire Hog Roast Banbury for your next party, or special event, all you need to do is to fill in the provided quote form. We will quickly work out a price, and get back to you to confirm your order.
Ordering a sumptuous feast for your guests really could not be easier. You can get started by asking us for a quote. Once you have confirmed that you want us to do the catering for your event you can relax and let us do the rest of the work.