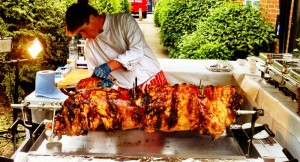 If you are planning a party the Spitting Pig Northampton team is here to help. We have the experience you need to make sure that all of your guests go home well-fed and content.
Our approach allows you to easily cater for all of your guests´ tastes and dietary needs. It does not matter whether you have invited a dozen people around to your home to celebrate a special birthday or are hosting a huge wedding or corporate event we can provide all of the food you need.
A Great Choice Of Party Food
We specialise in cooking whole hog spit roasts. This type of meat can be served in the traditional way, or as part of a carvery style buffet.
Both are popular options with guests. People love to see their food cooked in front of them, and the sight of a whole hog, or a row of turkeys, gammons or other joints turning on a spit is an impressive sight.
As you can see from our extensive menus we also offer a range of canapés, vegetable dishes, sauces, stuffing, gravies as well as breads and other types of food. We make it as easy for you to put together a party feast that will keep everyone happy. All you need to do is to choose what you want and let the Hog Roast Northampton tea, take care of everything from there.
It does not matter whether you want your guests to help themselves or for them to be served at the table, we have you covered. As well as professional chefs you can hire waiters and front of house staff from us.
Do Some Of The Cooking Yourself
At Spitting Pig Northampton we know some of you enjoy cooking, so you can hire a hog roast machine from us. On the day of your event we deliver the machine and show you how to use it produce perfectly cooked meat for your guests to enjoy.
To hire the Hog Roast Northampton team please fill in the form on this website. We will get back to you quickly to give you a quote and help you to work out how much food you need to order to cater for all of your guests.