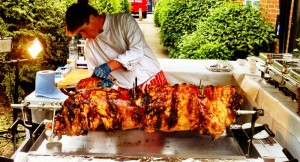 If you are planning to host a party and are concerned about the cooking, you are on the right page. The Spitting Pig Rothwell team is here to help. We can take care of all of your party food needs, enabling you to stop worrying and enjoy spending time with your guests.
Great Party Food Without The Hassle
For many years Hog Roast Rothwell has been catering for parties, wedding and corporate events in the area. This means that our professionally trained chefs have plenty of experience. They know how to adapt the food they provide, and the way they work, to suit you and your guests.
Our extensive menus are updated on a regular basis. We watch food trends to make sure that what we provide fits in with the tastes of everyone.
We can happily cook a traditional hog roast and serve it in baps, with stuffing, and a sauce, or slice it so it can be served as part of a carvery buffet. The Spitting Pig Rothwell chefs will also happily spit roast or barbecue other meats including lamb,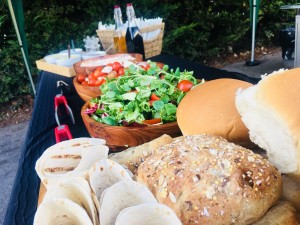 chicken, beef and turkey.
If you are hosting a formal event the food can be plated up and served to your guests at the table. We have an experienced team of front of house and waiting staff on hand to do this for you, or you can hire your own serving staff.
It is also possible to order salads, finger foods, steamed vegetables, potatoes and other types of food from us. All tastes and dietary needs are catered for.
Cooking Your Own Hog Roasted Meats
If you want to try your hand at cooking your own hog roast we can help. You can hire one of our fantastic hog roasters and impress your guests with your cooking skills. As well as showing you how to get the best results from the spit roaster we clean it for you once you have finished with it.
To hire the Hog Roast Rothwell team, get the process started by filling out the form on this website. We will call you back to give you a no obligation quote and discuss your needs in more detail.