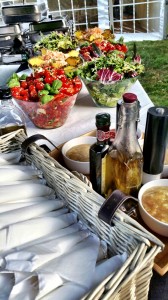 If you need catering services, in and around Rushden, you are definitely in the right place. At Spitting Pig Rushden we pride ourselves on being one of the best hog roast catering firms in the area.
When you hire us you know your guests will be served high quality food that looks and tastes fantastic. Our aim is to make sorting the catering out for your wedding, party or corporate event, as easy and fast as possible.
Hog Roasts For All Kinds Of Events
A roast hog is a spectacular sight. It is impressive, and the smell will make your guests really look forward to eating the food.
Very few people can enjoy spit roasted meats in their own homes, which is why it is such a treat when they are served it at a party. The chefs at Hog Roast Rushden can cook any kind of meat you want to serve. In the past, we have spit roasted beef, lamb, chickens and turkeys. Provided we have sufficient notice, we can also potentially provide a barbecue service, so you can serve sausages, marinated chops, kebabs and other products.
We also offer a range of canapés, desserts, salads, breads, sauces, side dishes and vegetarian options. These can be combined to put together buffets or individual meals, which can be tailored to fit in with the tastes and dietary needs of all of your guests.
At Spitting Pig Rushden, we use the best quality ingredients, many of which we source locally. Our chefs, waiters and front of house staff are all professionally trained, so when you hire us you know we will look after everyone.
Cook Your Own Hog
If you like to cook it is possible for you to hire a hog roaster from us, so that you can spit roast your own meats. We deliver the machine, on the day of your event, and show you how to get the best results. If you want to you can order some side dishes from us to go with the meat that you cook for your guests.
You can easily hire the Hog Roast Rushden team for your next party or event. Just fill out the quote form that is provided on this page.