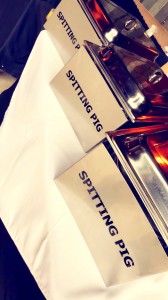 A spitting pig feast is a great way to take care of catering for your next party, or corporate event. There really is nothing quite like the sight of a whole hog slowly turning on a spit. The aroma is wonderful, so your guests will barely be able to wait for our expert Spitting Pig Thrapston chefs to finish the cooking before diving in and eating the succulent, and tasty, meat.
On average, a standard hog can feed 80 people, which makes it easy to provide everyone with great tasting food even if you are working with a relatively tight budget. We cater for any type of event, and will happily adjust our menus to fit in with your budgetary needs and dietary preferences of your guests.
Impressive Party Food
Over the years, we have catered for hundreds of different events. This has enabled us to put together some great menus for you to choose from.
It does not matter how many people you want to invite we can handle all of the cooking. To ensure that we can do so, we offer a fantastic choice of canapés, side dishes, desserts and other types of food as well as spit roasted, or barbecued, meats. Everything is made using only the best ingredients, and it is all freshly prepared.
The Hog Roast Thrapston team is equipped to serve the food buffet style, or at the table. For more formal events, we can even provide a team of waiters and front of house staff.
An Easy Way To Cook Your Own Spit Roast Feast
There is even the option to hire a spit roasting machine from us, and do the cooking yourself. A member of the team will help you to calculate how much meat you need for the number of guests you are expecting, and explain how to cook it all to perfection.
To hire Spitting Pig Thrapston you only have to spend a few minutes filling out the quote form. We will check our availability and ring you straight back to give you a detailed quote, and help you to select the best menu items for your special event.