Here at Hog Roast Bedford we pride ourselves on our ability to provide hearty, wholesome and delicious food for everyone. No matter of any dietary requirements or allergies our team of Hog Roast Bedford professional chefs will be able to create a bespoke menu that suits all of your guests tastes.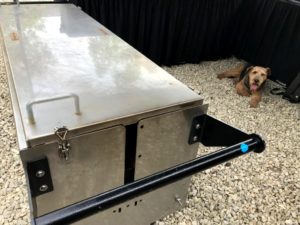 This week our Hog Roast Bedford catering team, consisting of Ben and Beth, were kept busy catering for one of our client's birthdays parties. John was turning fifty and wanted to celebrate in style by hiring Hog Roast Bedford to come and create a delicious menu for him and his guests to enjoy to ease the transition into middle age (his own words!).
John was hosting the party at his own home in Bedfordshire and so we would have plenty of room to get set up and organised in the garden. As usual we set up under our gazebo just in case the weather decided not to cooperate. Luckily the forecast was good which would mean everyone would be able to come outside and enjoy our slow roasted food in the garden too.
Ben and Beth had been briefed to expect around one hundred guests and we had been asked to serve our classic menu three option. This includes a whole slow roasted hog which is roasted in our machine for several hours before being served with lots of sauces, stuffing and seasonal veggies. For the vegetarians themselves we prepared some lovely grilled vegetable and halloumi skewers and would be serving everything up on some recyclable wooden crockery and cutlery.
All in all, a lovely day was had by John and his guests. One guest who certainly seemed to enjoy our Hog Roast Bedford was Johns dog who was first in the queue and had a tasty helping of some pigs' ears given to him by Ben. Like we mentioned, we do cater to all!