Recently, the Hog Roast Nottingham team were hired by a corporate client for their private event. The team were chosen by LINSCO, a local company, to create a fantastic catering experience for their employees. The company also hired out Nottingham Rugby Club to host their event at.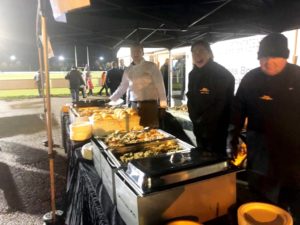 The company chose the Hog Roast Nottingham team's Corporate Menu One to serve to their employees. This menu involved a fantastic traditional hog roast which included a slow roasted hog adorned with all the classic trimmings included homemade stuffing, crispy cracking and traditional apple sauce. The meat was served with a minimum of two rolls per person to help to create a slightly more relaxed atmosphere at the corporate event. The food was enough for 150 people, all of which required a large main meal as the buffet was served as an evening meal. They served the food at 7:45pm and, therefore, as the event was a slightly later service, it was essential that all of the food was ready on time for the hungry guests. In addition to the main meat, the Hog Roast Nottingham team served vegetarian skewers as the alternative option to the meat which consisted of grilled vegetables and halloumi.
The service was led by the Hog Roast Nottingham team's Catering Manager, Ben, who ensured that all of the food met the high standards that the Hog Roast team uphold. Also aiding Ben in getting all of the buffet food out on time were Beth and Stephen who made fantastic contributions to the service. The team delivered a fantastic and friendly service to the company's staff and the staff appeared to be really pleased with the efforts the team put into food. In addition, the staff also appeared to really enjoy the food and many returned for second and third helpings. The staff had a fantastic time at the event and those that organised for the team to provide food were very grateful for the service the team delivered. Overall, the evening was a fantastic success and it was a delight for the team to cater for LINSCO.