Hog Roast Ecton attends many parties and events with a full catering service, where we arrive at your venue hours before service, prepare the meat there and then cook it for hours and serve it hot and fresh. However, sometimes that's not a possibility for a particular customer or company, who may want a cooked pig delivered instead, which we can also do if preferred or needed. We still ensure that the meat is locally sourced, of high quality and as fresh as possible, it's just that we roast it at our premises rather than at your venue and then bring it along to you fully-cooked, so that you and your guests can dig in straight away.
We did this fairly recently for a Friday function at Diversey's corporate office in Northampton. Diversey is a cleaning materials and equipment company, providing first-class solutions for cleaning and hygiene. They asked our team here at Hog Roast Ecton to provide a fully-cooked hog to feed 50 guests, which we would deliver by 11.30am. Accompanying the tasty hog would be our own-recipe sage and onion stuffing and apple sauce, as well as condiments and napkins, which we always provide.
On the day of the event, Hog Roast Ecton arrived at Diversey on time in the morning, with the gorgeous hog that we had cooked for several hours, slowly but surely, until it produced soft, succulent meat and crispy crackling. We ensure plenty of crackling with every cooked hog, as we smother the skin in lots of salt, and covering the pig in water and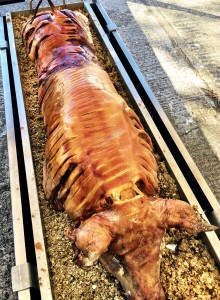 roasting it ever so slowly in its own juices makes sure that we get juicy, tender morsels of meat.
For your upcoming party or event, we can provide you and your guests with a pig that's been fully cooked in advance, too, if you prefer, or we can do what we usually do – set up our equipment at your venue a few hours before serving time, lovingly prepare the hog, watch as it roasts away and then serve it to your guests right after we've carved off the crackling and sliced into the meat. The choice is yours!