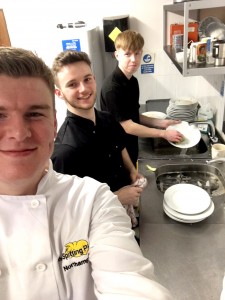 Hog Roast Kettering recently had the pleasure of catering an event at Kettering Town FC, which is located on Polwell Lane in Burton Latimer. It's just a few minutes from Kettering's town centre and the football club is a popular venue for events and parties in the area. We were asked to cook a hog to make lovely pigs in buns, which is what we call hog roast rolls, so our chef Ben and his team arrived first thing in the morning to get started on the meat and to set up the equipment.
Once the gazebo was up and the serving tables were out, we prepared the meat by scoring it all over, covering it in water and then rubbing in plenty of salt to make the yummy, crispy crackling. It takes a good few hours to roast a pig to perfection, so the hog roast machine was turned on and the temperature was turned up and then it was the machine's turn to do all the hard work, slowly but surely, for several hours.
For this event, Hog Roast Kettering would also be providing some fresh salad dishes, including a tasty one with pasta, cherry tomatoes, cucumber, and lettuce. We can provide several salad options, such as fresh green leaf, tomato and basil, carrot and orange with a sesame dressing, Waldorf, coleslaw or much more, but that's not where our food options end. If you prefer a different meat to pork, we can spit-roast beef, lamb, turkey or chicken, or any alternative that you fancy, or we can barbecue sausages and beefburgers instead. If you're having several courses for your wedding or corporate event, we can supply lots of different kinds of food, such as posh canapés, a whole salmon or soup starter and even a homemade dessert to finish it all off after your buffet-style main. Plus we have many options for those guests with dietary needs, such as vegetarians, vegans and those with gluten intolerances or allergies.
Whatever you need for your upcoming party or event, Hog Roast Kettering can cater it in style, just like we did at Kettering Town FC. Between 1 and 1.30pm on this day, Ben and his team served around 70 guests lots of lovely, fresh, quality food.