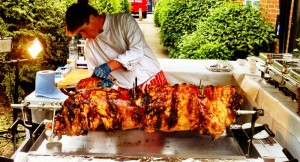 It always feels good to host a party. There is nothing quite like seeing all of your friends and family enjoying themselves. The only problem is that organising everything is a lot of hard work, but it need not be that way. You can eliminate a lot of the stress simply by hiring the Spitting Pig Kettering team to take care of feeding everyone.
A Fantastic Selection Of Party Food
At Hog Roast Kettering we specialise in providing spitting pig feasts. There is something really special about this type of food, which is why it works so well for weddings, corporate events and family occasions. People enjoy eating the freshly cooked, succulent meat, whether it is served simply in soft rolls or sliced with all the trimmings as part of a roast dinner.
However, we realise that tastes change, which is why our professionally trained catering team is always looking for new party food ideas. We update our menus on a regular basis.
As you will see when you browse our menus we offer an amazing choice. Our range of canapés is especially varied. We take inspiration from all of the major cuisines of the world when developing our menus.
Our professional team can prepare and serve a range of side dishes, vegetables, salads, breads, sauces, finger foods, gravies, stuffings and desserts. All you need to do is to choose the items you feel your guests will enjoy the most and leave the Hog Roast Kettering team to prepare it all for you.
Cook Your Own Spit Roasted Meats
We also offer a hog roaster hire service. This gives you the chance to impress your guests by cooking your own spit roasted meats. We show you how to use the machine, and can even supply the meat as well as lease you the spit roaster. Best of all you do not have to worry about cleaning the machine. We take care of that for you.
To hire Spitting Pig Kettering all you have to do is to key your details into the form on this website. A member of the team will quickly check our availability for that date, and ring you back to discuss your needs in more detail and give you a quote.