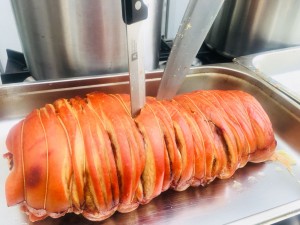 Hog Roast Thrapston is renowned locally for providing delicious food for our customers at a very reasonable price but what you might not know is that we also cater outside of Northamptonshire too and this may be because a customer has requested us to or so we can cover for a fellow franchise. Just recently, we were asked to cater in Norton, a village in Mid Suffolk, just a few miles east of Bury St Edmunds. For this party with 50 guests, Sharon asked us to provide one of our popular menus – the Southern Slow Roast, also known as our Private Party Menu 2 – which features your choice of three tasty meats, which are marinated in our secret recipe rubs, and four yummy side dishes. This much variety of food at your event means there's something for everyone, and we can even provide a vegetarian dish too, such as our lovely veggie skewers with halloumi.
For this party, Sharon chose our barbecue pork butt, Texan 24-hour beef brisket, and Cajun-spiced whole roast chickens, to be accompanied by our homemade crunchy coleslaw, a Greek salad with feta cheese and olives, mac and cheese and spicy sweet potato wedges. We would also take along some delicious sauces to serve alongside the meat, including the thick and tangy Stubb's Hickory Bourbon Legendary Bar-B-Q Sauce, a Cajun hot pepper sauce (which has a good kick) and the syrupy Jack Daniel's Smokey Sweet Barbecue Glaze, as well as our usual condiments, as sometimes nothing else will do than a dollop of ketchup!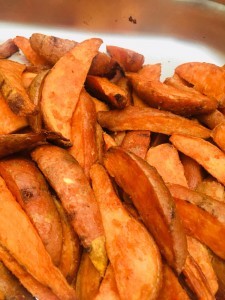 On the day of the party, Hog Roast Thrapston arrived several hours before the lunchtime service. We roast the marinated meats low and slow, so at a low temperature for a long time, which we believe makes them taste amazing. After setting up our equipment, gazebo and serving tables, we cracked on with setting the three meats cooking and they were soon sizzling away steadily and filling the air with some lovely meaty smells.
By 1pm, it was finally time for our Hog Roast Thrapston team to serve up some lovely grub to the hungry guests.