If you're thinking of getting caterers in for your next special occasion, whether that's your wedding day, a birthday party or corporate hospitality event or pretty much anything else that you can think of, Hog Roast Rushden has a variety of menus for you to choose from. We cook amazing hog and spit roasts, and our long-term customers who keep coming back are testament to that, but we can also make so much more if needed too. Whether you fancy something different or you need us to cater for the personal tastes or dietary requirements of your guests, we can help you create a fantastic menu that's suitable for everyone invited.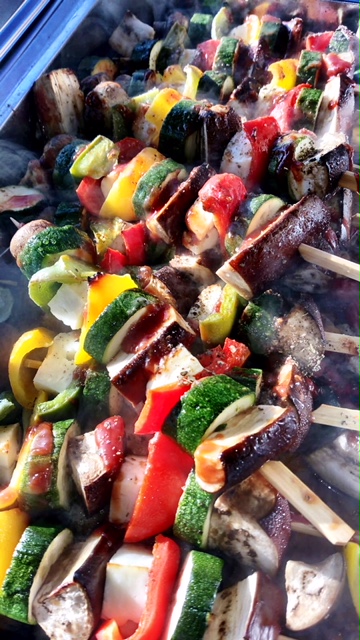 For Abby's party that we catered over the weekend, she asked our Hog Roast Rushden chef and team to cook our hugely popular Menu 1 – pigs in buns. We start by preparing a pig that we source locally on-site at your venue, so it's as fresh as can be, and then we cook it for hours and hours until soft and tender on the inside and with crispy and salty crackling on the outside. Once we've carved off the crackling into trays and then filled trays with the moist meat, we add both to soft, floury bread rolls and wraps, add our homemade apple sauce and stuffing, and then unless you want to add your choice of condiments, your pigs in buns are ready to devour.
However, for this occasion, Abby also asked us to provide a vegetarian option. We've been doing so for many years and now also provide much more too, such as dishes for vegans and those with a gluten intolerance or allergy. When it comes to vegetarians, we have several choices but we always get great feedback about our yummy veggie skewers, where we grill halloumi and vegetables and serve with pitta bread and our tasty dip. Abby asked us to cook these at her party together with a traditional hog roast to make the pig in buns, as well as our homemade coleslaw and a Greek salad.
Hog Roast Rushden cooked up a storm for Abby and her guests on Saturday. Not only was the hog stripped clean, there was nothing left of the salads or skewers by the time we left either.