Whilst we love catering for large parties and weddings at Hog Roast Thrapston, sometimes it is nice to cater for more intimate events. This way we really get to interact with our guests and provide a more intimate service, plus it often means there is more food for seconds and thirds which is always a bonus!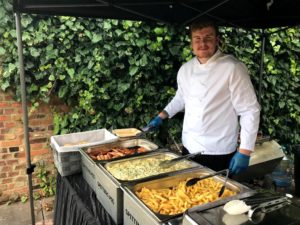 This weekend Hog Roast Thrapston had been honoured to accept a booking to cater at Rosemary's 70th birthday celebrations. She had mentioned when booking that she was holding a fairly small gathering for thirty of her closest friends and family and that she was looking forward to trying out our southern slow roast neu. Traditionally with this menu, you have the choice of three different meats all roasted low and slow after marinating in our secret recipe rubs. The meat is then served as pulled meat and eaten alongside our southern inspired accompaniments. However, this time Rosemary had asked us to serve the meat more as a carvery style as this was what she enjoyed most and of course we happily agreed!
We arrived at the venue, Islington Hall Farm, a location we have catered at in the past and quickly got set up to get the meat cooking right away. Rosemary had chosen our Texan 24 Hour Beef Brisket, BBQ Pork Butt and Creole Pulled Quarter of Spiced Lamb for her guests to enjoy. The meat would be accompanied by our Memphis style crunchy coleslaw, a traditional southern mac n cheese, green leaf salad and some chips to round it all off. Our menu was then complete with the addition of some butcher's selection sausages and gluten free rolls plus vegetarian and vegan option of grilled vegetable kebabs.
We had been given a 2pm serve time so it was nonstop work to make sure Rosemary and her guests had all the Hog Roast Thrapston food they needed!