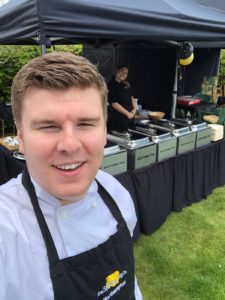 Recently, the Hog Roast Corby team were hired by Scott for a 60th birthday party which was being held at a private home in Northamptonshire. The food was served as a buffet in an outdoor service for a fantastic garden party he was hosting. The client also requested the team to serve the food on wooden crockery to give the buffet a more luxurious. Scott selected the Southern Slow Roast menu for the Hog Roast Corby team to serve to the guests. The buffet featured a selected of American style meat including Texan 24 hour beef brisket, Cajun spiced whole roast chickens and Creole pulled quarter of spiced lamb. The client also requested for the team to serve a portion of salmon so that the buffet was suitable for all of the guests. To compliment the meats, the team also served a variety of sides including Memphis style crunchy coleslaw, a Greek salad, mac and cheese and Cajun spiced sweet potato wedges. The meats were also served with a selection of bread rolls and also a triplet of spicy sauces including Stubbs legendary hickory bourbon BBQ sauce.
The Hog Roast Corby team's Catering Manager, Ben, delivered the buffet to 50 people who all appeared to really enjoy the food. Ben was assisted by his wife, Beth, who did great job of bringing the buffet together and ensuring that everything they had cooked was perfect. The buffet was served mid-afternoon from 3:30pm on wards. The buffet was served under a marquee and the weather was gloriously sunny throughout the afternoon. The food was cooked in Hog Master machines and served in heated metal trays to keep the food warm.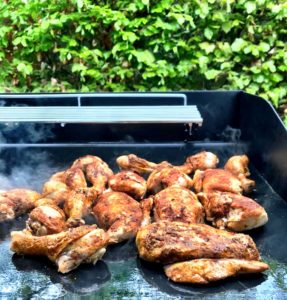 The client contacted the team after the service to thank them for their great hard work. Scott thought the food was 'magnificent' and was really impressed by the quality of the 'outstanding' service. He said that all of his guests were complimenting him on his catering choices as they all loved the food. Scott also expressed that he hoped to book the team again in the future for another event.