Recently, the Hog Roast Brackley team were hired by Rebecca and Richard for their event. The venue they had selected was the Frensham Brewery at Pierrepont Farm which was a tap room located at a local brewery situated on a farm. The venue was located slightly out of the Hog Roast Brackley team's usual catering area but the team were more than happy to travel outside of their usual area to deliver a great service to the couple. The food was served outside under a gazebo which the Hog Roast Brackley team provided. All of the food was cooked on site fresh and the buffet used locally sourced ingredients.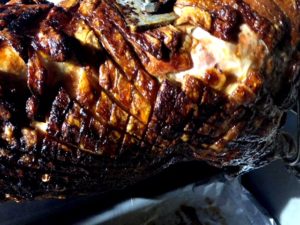 Rebecca and Richard selected menu one which was a classic hog roast buffet which featured all of the traditional elements. The menu featured a whole slow roasted hog which was spit roasted to mimic the traditional style of cooking. This produced some beautiful crispy crackling which was served alongside apple sauce and homemade stuffing. The meat was cooked in one of the Hog Roast Brackley team's professional Hog Master machines. In addition to this, a vegetarian option of lightly grilled vegetable and halloumi skewers served with pitta breads and a tzatziki dip. The buffet was to be served to seventy people and so it was important that all of the food was delivered at the same time so that all of the guests could eat together. The food was served outside so the meat was served in professional heated metal trays to ensure that the food did not go cold.
The Hog Roast Brackley team received some fantastic feedback from their clients. They thought that the food was amazing and were impressed with how quickly the hog roast buffet went down because it was so tasty. In addition, all of their guests really enjoyed the crackling and thought it tasted absolutely fantastic. Ben and Beth, who managed the Hog Roast Brackley team were really pleased with the service they delivered. In addition, all of the guests appeared to really enjoy the food and the team helped to create a fantastic atmosphere at the couple's event.