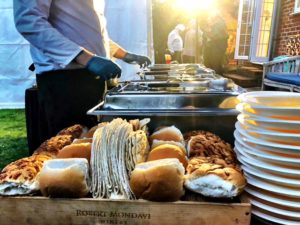 Recently, the Hog Roast Thrapston team were hired by Fiona for her event which she was hosting in her garden at her home in Northamptonshire. The guests would need to be served with a toasty warm buffet to help keep them warm during the outdoor evening service. Fiona had hired the team to take the stress of cooking away and please her guests so it was important that the service ran smoothly so Fiona did not have to worry.
The client, Fiona, selected a classic hog roast buffet to serve to the guests. The Hog Roast Thrapston team roasted a fantastic whole hog in a professional Hog Master machine to ensure that the meat was cooked to perfection. It was served alongside a classic selection of traditional side dishes including apple sauce and stuffing as well as crackling which was created by the roasting machine. In addition, to ensure that the buffet was really casual, the Hog Roast Thrapston team served a selection of bread rolls and wraps in wicker baskets. Furthermore, the Hog Roast Thrapston team also provided a vegetarian option of lightly grilled vegetable and halloumi skewers which were served with pitta breads and a tzatziki dip. The food was served on disposable crockery which was discreetly cleared away by the team after the service.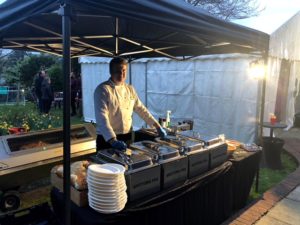 The buffet was served from 8:30pm so it was important that the food was served in heated professional trays so it stayed warm throughout the service. The Hog Roast Thrapston team's buffet was served to 55 people so it was important that the team made more than enough food for everyone so that none of Fiona's guests left her party hungry. The service was led by the team's Catering Manager, Ben, who ensured that the buffet was perfect for Fiona and her guests. The food was cooked and prepared on site before it was served onto the buffet table. This ensured that all of the food tasted really fresh and was served piping hot to the buffet for the guests to enjoy. Overall, the event was a fantastic service and Ben was really proud of the effort his team put into creating the buffet.