Due to the flexibility of our style of catering Hog Roast Huntingdon are able to provide delicious, slow cooked food for any and all occasions. Whats more is that each of our menus can be scaled up or down depending on the number of guests you have attending. Additionally there are lots of opportunities to add things to our set menus depending on your requirements and our chefs will always be happy to go the extra mile for our customers- all you need to do is ask!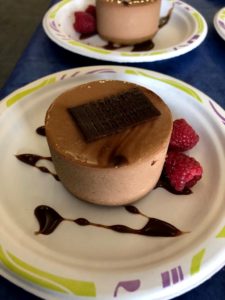 This week Hog Roast Huntingdon were catering for a private function at a leisure centre in St Ives called 'One Leisure'. The event would be for approximately sixty people and we had been asked to arrive for two o'clock with a serve time of four o'clock giving us plenty of time to get everything prepared.
Our client, Roger, had requested a classic Hog Roast Huntingdon with vegetable skewers for the vegetarian option. On the job were catering managers Ben and Beth who were determined to pull out all the stops to make Rogers event a success.
Of course the first job at any event is to get the hog onto roast to allow it the maximum amount of time to become perfectly succulent and for the skin to crisp up into our signature moreish crackling. Roger had also requested some butchers selection burgers and sausages that went onto cook next. For the events accompaniments we would be serving up some corn on the cobb, a lovely mixed salad, crunchy coleslaw and some new potatoes cooked in a delicious garlic butter.
Roger had also chosen a couple of Hog Roast Huntingdon desert options to finish the meal off. We would be serving a beautiful chocolate cheesecake and Vacherins of strawberries and passion fruit cream to end the meal. What a fantastic menu for a lovely event!