Recently, the Hog Roast Kettering team were hired by local clients Mr and Mrs Giraud who were hosting a wedding party in their own garden. The couple requested the buffet to be served as a buffet outside so it was important that the team kept the food warm throughout the service.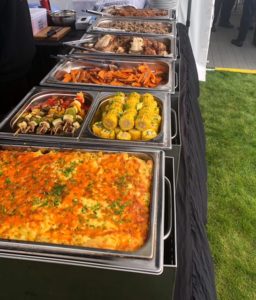 The couple had selected one of the Hog Roast Kettering team's most popular menus of the Southern Slow Roast menu. The menu featured a great range of main meats which were handpicked by the clients. This selection included BBQ pork butt, Creole pulled quarter of spiced lamb and Cajun spiced whole roast chickens. In addition, at the request of the happy couple, the Hog Roast Kettering team also added sausages onto the menu. As side dishes to the meats, the Hog Roast team also served a Greek salad, corn cobettes, macaroni and cheese and also Cajun spiced sweet potato wedges. The buffet was served on real crockery and presented on the buffet table in heated metal trays to ensure that it remained warm.
The buffet was served to 34 people and so it was a great opportunity for the Hog Roast Kettering team to demonstrate the quality of food that they could deliver to a smaller and more intimate event. The food was served from 1:30pm on wards and so it was a beautiful setting for the team to deliver a fantastic service. The team was led by the Hog Roast Kettering team's Catering Manager, Ben, who ensured that the service ran smoothly. His team consisted of a great selection of chefs including Nathan, Leoni and Jodie who all did a great job of roasting all of the meats. All of the food was cooked and prepared on site with the team arriving hours in advance to ensure that had enough time to cook all of the food to perfection. The couple's guests really enjoyed all of the food and many returned to the buffet for second helpings. The couple themselves were overjoyed with the friendly service the team delivered and were pleased with the quality of the food.