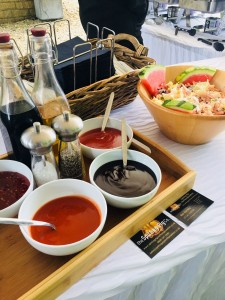 Hog Roast Gretton is busy all-year-round, though the sunshine can often make us even busier, and we sometimes get to cater in other areas too. While we regularly work all around Northamptonshire, we recently catered an event in the charming village of Greatford in Lincolnshire, at a lovely house close to the River Glen.
Booked by Animates Veterinary Clinic Ltd, Hog Roast Gretton was asked to cook our Southern Slow Roast Menu for 30 guests. While many of our customers will ask us to roast a hog or spit-roast an animal or bird for their special occasion, this very popular menu gives you and your guests various choices of meats and accompanying sauces, as well as side dishes. We're all about giving our customers variety and ensuring there's something for everyone to enjoy at your party or event. For this particular occasion, we were asked to cook beef brisket (which sizzles away for 24 hours), our sticky barbecued ribs, where the meat just falls off the bone, and whole roasted chickens with a Cajun spice, though customers can instead choose from bbq pork butt or pulled quarter of Cajun-spiced lamb. We marinate these meats with our own special rubs and then roast them at a low temperature for several hours, until they are all tender and juicy and packed full of flavour.
With the Southern Slow Roast Menu, you also get to choose several side dishes, and this event would feature our crunchy coleslaw, corn on the cob and spicy sweet potato wedges. Alternatives that you can choose include a seasonal green leaf salad, a Greek salad, mac and cheese, or skin-on Southern-style baked potatoes and we also offer veggie skewers, a popular vegetarian choice which can also be made vegan if you prefer.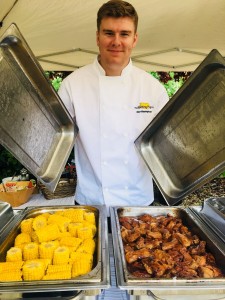 On the event day, the weather was gorgeous and Ben and his team at Hog Roast Gretton prepared and cooked the meats to absolute perfection. We even added slices of watermelon to the coleslaw, which can be really refreshing on such a fine summer's day. All of the food went down a storm and the plates came back empty, which is a great sign that we've done exactly what we came to do.