Hybrid Air Vehicles (HAV) are currently the world leaders when it comes to manufacturing safe, sustainable and highly efficient eco-friendly hybrid aircrafts, which are developed through cutting-edge technology. Right now, they are the only company to have flown a full-scale prototype of their design, and having secured funding en masse from investors all over the world, HAV certainly have a bright future ahead of them! So it was a huge honour when they asked us to cater for an event they recently held at their Airlander Technology Centre in Bedford.
Chris, the company office manager, had been the one to organise the booking with Hog Roast Banbury, and after speaking to our catering manager, Ben, in length about his goals and vision for the event, he happily selected our Classic Hog Roast Menu for the occasion.
With the event scheduled to take place at midday, Ben and the team arrived at the industrial estate early in the morning to prepare the food. While the weather might not have been on their side, the Hog Roast Banbury team powered through the blustery winds and freezing temperatures, which paid off with a show-stopping spit-roast!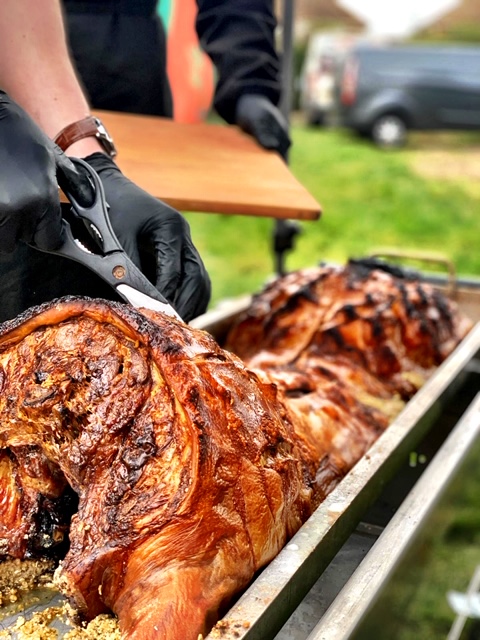 The sumptuous slow-roasted pig was served on gluten-free rolls with crackling, savoury sage and onion stuffing with a dollop of applesauce for extra flavour. Hog Roast Banbury also whipped up some of our homemade coleslaw, mixed salad and sweet potato and traditional fries, along with the option of marinated grilled chicken and vegetable skewers or grilled veggie skewers with halloumi cheese chunks.
The 35 guests who attended the event enjoyed every mouthful of the hog roast and the accompanying sides, which allowed them to come up with their own unique flavour combinations. For Ben and the team, the whole experience was a lot of fun, and we're pleased to share that Chris has since reached out to thank everyone at Hog Roast Banbury for how well the event was managed.
"The food & in particular the Hog Roast was excellent and the staff who catered on the day were very professional and amenable despite it being a cold windy day! I would not hesitate to recommend the Spitting Pig Company to all friends, family and colleagues. A first class service without any hassle or dramas." – Chris