Even as the wind blew a gusty storm, and the rain fell in all its torrential downfall, nothing was going to stop Elizabeth from enjoying her 40th birthday with Hog Roast Daventry last week. We were first approached about this surprise event some time back, with Elizabeth's friends asking if we could provide some catering to their surprise birthday party at Willoughby village hall. That sounded to us like an opportunity too good to miss, seeing as it had all that we love – great food, a great celebration for a birthday, and a bit of secrecy and surprise to it! Our catering manager Ben was all too happy to oblige.
Friends and family came out in force to celebrate this 40 years. With a whopping 60 guests in attendance for this 40th surprise birthday, Hog Roast Daventry had an exciting menu in store for all! Ben whipped up one of his favourites, our Gourmet BBQ menu. Ideally we'd like to serve this barbecue the way it should be done outdoors, and we were supposed to but the weather meant we all had to quickly squeeze in-doors in time to still spring the surprise. Nevertheless, Hog Roast Daventry are always flexible and ready for change, so there was still no stopping us from cooking up a feast of barbecued delights.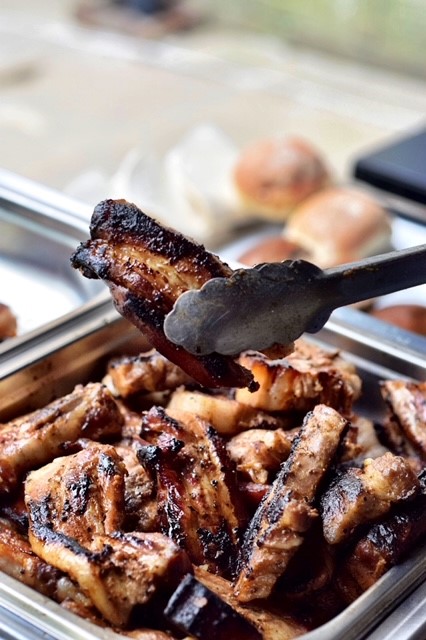 Our very own handmade burgers and gourmet sausages went down a treat served with their fresh gluten-free bread rolls, while the Thai chicken kebabs and ribs gave a taste of some gourmet brilliance for a twist. For the veggies in the party there was no need to despair, our incredible grilled veg and halloumi skewers were a perfect barbecue treat to be enjoyed alongside a helping of our Greek salad, our own coleslaw and some crisp fries.
Ben might have had his work cut out for him with such a high demand for more food, but fortunately our famous hog roasting machines can handle so much food at once that helpings of seconds and thirds was easily managed. Even with the rain and the wintery wind blowing a storm outside, who says you can't still enjoy a brilliant barbecue huh?