There must be something about reaching a milestone birthday, that gives people the urge to relive their childhood, which was definitely the case when we were recently asked to cater for Michelle's 30th birthday. She didn't want to a formal affair or a quiet dinner party, instead she hired a roller disco for the night and wanted Hog Roast Hackleton to provide a laid-back birthday buffet for an evening of thrills and spills with all her friends! We always admire people who come up with something a bit out of the ordinary when it comes to party venues, not only because it makes our job more interesting, but also because it we also pride ourselves on thinking outside the box when it comes to event catering. Being asked to cater at off-beat venues (and you can't get much more off-beat than a roller disco!), gives us the chance to demonstrate our adaptability when it comes to cooking in different locations, no matter how weird and wacky they are!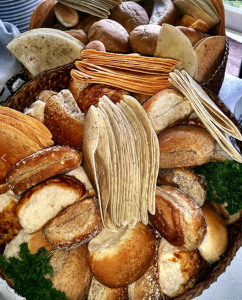 Thankfully, we didn't have to set up our equipment in the middle of the skating rink, and instead were allocated some space in the café area, which Michelle was free to use, as she had hired the entire venue for the night. We wasted no time in getting our skates on (in a purely culinary sense of course!) to prepare Michelle's tasty birthday buffet. Whilst many people may have found it difficult to concentrate on the task at hand amid all of the funky upbeat tunes, strobe lighting and the uproar on the rink, Hog Roast Hackleton are never put off our stride!  We are able to enjoy the atmosphere and get into the spirit of things, whilst never losing focus on ensuring everyone receives delicious food, which is of course why we were there!
When the time came to serve the classic hog roast, crispy crackling and smooth homemade apple sauce, the rink was suddenly evacuated en masse, as everyone was drawn by the heavenly aroma of the pork. Whilst complimenting Hog Roast Hackleton on a great birthday buffet, Michelle also confided in us that she was doubly pleased when the food was served, as she was secretly glad to rest her bruised and battered legs, having realised she wasn't quite as good at roller skating as she when she was seven!