Today, Spitting Pig Northamptonshire were catering a hog roast event in Peterborough, catering for the hungry employees at RJG Technology. After being stuck in horrendous traffic, Ben and Beth arrived on site at 11am ready to serve at 1pm. The sun was out and not a cloud in site. It was fair to say, it was a great day for a BBQ reaching 29 degrees – it was the hottest day of the year! The Breeze was certainly welcomed.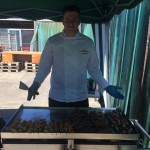 We popped up our gazebo and set up the stainless barbeque and our serving tables ready to prep all the fresh food. Spitting Pig Northamptonshire were serving fresh butchers sausages, tasty British beef burgers, succulent BBQ ribs, tender Thai chicken kebabs (which went down a treat!), hand cut spicy wedges (definitely had a bit of a kick to them!) and fresh mixed salad. That morning, the meat was picked up fresh from the local free range butchers in Peterborough!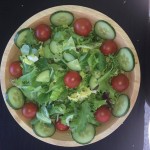 As we awaited our serving time, we prepared the food freshly on site using the best ingredients on the market. Tasty green leaf salad, juicy cucumber, freshly sourced peppers, cherry tomatoes and finely diced spring onions. As a vegetarian option, we freshly prepared Spitting Pig's halloumi skewers which consisted of peppers, courgettes, cherry tomatoes, mushrooms and halloumi cheese. This was severed into pitta breads with tzakiki sauce. The vegetarians were very complimentary about these.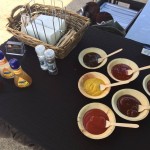 A variety of sauces were provided including sweet chilli, burger relish and brown as well as the usual; ketchup, BBQ and mustard. At 1pm, head chef Ben had all the meats cooked and ready to serve to the hungry guests in Peterborough. It was devoured within minutes with many compliments being received, especially on the quality of the meat!
We thank RJG Technology for their hospitality and recommendations.