There's often a big sense of theatre at a hog roast that we provide; the pig, centre of attention, filling the air with irresistible aromas and such an impressive sight, especially when we're carving it. Last weekend, we had the pleasure of catering for a couple who are already well used to the theatre, having met in one, years ago, and worked together backstage ever since. For their summer engagement celebration, Claire and Dan asked us to cook a hog roast in Sulgrave in their back garden for around 20 guests. You may not already know that we can cater small events as well as huge ones but we can manage any size and just about any number of guests (even in the thousands, believe it or not). It may also be useful to know that it's also often possible to cook your hog or spit roast indoors, which may be useful in case of bad weather.
For their intimate party with close family and friends, the couple asked us to cook a small pig in their garden for a hog roast in Sulgrave and bring along bread rolls and sauces. Our famous 'pig in a bun' is basically sliced pork sandwiches with stuffing, apple sauce, and condiments, topped with some lovely, salty crackling. We roast the hog for a few hours, leave it to rest a little while, and then carve it fresh in front of your guests. If you prefer, you can select one of our party menus or we can help you to devise your own but in this instance, Claire and Dan wanted just the ingredients for our delicious pig in a bun feast.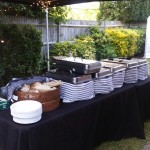 On the day of the party, we arrived in the afternoon to start roasting the pig for an early evening service. Dan asked us many questions about cooking a pig this way and watched carefully as we prepared the meat, while Claire decorated the garden beautifully. When the guests started to turn up, they headed straight to the back garden, towards the gorgeous smells the hog had produced while cooking perfectly. We raised a glass to the happy couple with all of the guests and then it was our turn to be centre of attention, while we carved the crackling and the pork for everyone to enjoy.