Earlier today we were busy hog roast catering for a staff party at a local hotel in Fawsley, providing food for more than a hundred guests including employees and their partners. We set off early, along with one of our trusty Titan hog roasting machines and a huge pig ready to be cooked for several hours. The lady who booked us is the hotel proprietor, Jean, who found us by searching online and checking out reviews of various companies. After reading several pages of our website she was then adamant that we were the catering service to use, which means we must be doing something right! However, the proof is in the pudding as they say, so we hoped that Jean would be as impressed with our service and as delighted with our food as she was of our site.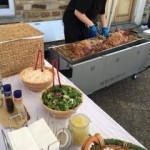 As well as the scrumptious hog roast that would give the guests their 'pig in a bun', the party was also going to need some extras, so we sorted out a menu in advance with Jean. At the venue, we put together some lovely, fresh green leaf and Waldorf salads and homemade coleslaw and also warmed our tasty new potatoes that we roast in garlic and rosemary. We had soft, floury rolls for the roasted pork, together with stuffing and apple sauce of course, and we would have lots of salty crackling once the pig was ready, which is always a big hit. Our serving station inside a marquee in the hotel grounds was neatly laid with a tablecloth, crockery and napkins, all ready for the guests to arrive.
After a few hours of slowly cooking, the pig was beautifully moist and tender, and ready for us to start carving off the crackling. We were suddenly surrounded by a crowd of people, each of them eyeing the crackling, some of them licking their lips! One of the guests we served got straight back in the queue after just one mouthful. We had to smile, but as a chef, it is a pleasure to see people enjoying our food so much.
The hog roast in Fawsley went down a storm with the hotel employees and partners, with Jean herself declaring it the highlight of her year. All the food was happily munched on, with plates coming back just about licked clean. Could it get any better?