We are approaching the near end but fun part of the year and my goodness does hog roast know how to serve the perfect events to match. Not only offering wedding, corporate, private and Christmas functions we at Hog Roast Rothwell have just delivered a fantastic private Halloween party catering for over 100 guests. We arrived promptly, prepared to deliver the best grub for this spooky occasion, the main hosts David and Katherine were thrilled to see the cuisine line up as it accompanied the decor just perfectly.
The whole evening embodied exactly what we all discussed in the pre-arrangements, a night to remember for sure. The guests were relishing the choice of food that was picked from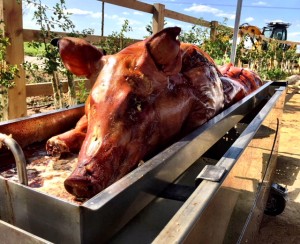 the private party menu 5, it was the complete full monty. The Feta skewers looked lusciously vibrant in the evening, being enjoyed by many of the creative ghoulish characters walking around throughout the night. The Tiger Prawns looked hugely succulent spread across the tables being eaten, surrounded by small scary spiders and bright lanterns to set the scene. To think this was only the starters served by our wonderful staff, whom were very helpful with the set up and tidy up and were thanked many times for their friendly professionalism during the event, our fellow food lovers were beyond happy to see the famous Hog Roast itself ready to be apportioned, not forgetting the other main course, faultless chicken kebabs and meaty marinated spare ribs accustomed by well prepared salad and new potatoes… what a feast.
Hog Roast Rothwell finished the night with some beautiful tasty desserts resulting in lots of happy customers, we also received many amazing compliments including 'this is 5 star hospitality' which ended the evening perfectly for us. We love to cater for all types of parties and occasions making sure that we are fitting specific needs to you, good food is the key to people's hearts and that was definitely served for the Hog Roast Haunting in Rothwell.