One of the great things about what we do is that we get to celebrate all kinds of festivities with lots of different people. Here at Hog Roast Brackley we had the pleasure of attending an early Christmas Party with a lovely team. Having had a great first year as Brackley's newest IT consultancy, CEO Bettie Davis decided to invite us along to help them celebrate.
Event organiser and Marketing Executive, Debbie Reynolds,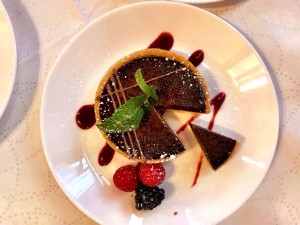 asked us to provide an eclectic mix of food, reflecting the company's diverse team. Not only did we provide our classic Slow Roasted Pig, but also a beautifully marbled Roasted Sirloin, served with fluffy Yorkshire Puds and a red wine gravy, along with our Free Range Roast Turkey, New Potatoes Roasted with fragrant Rosemary and for those who wanted something a bit spicier, a refreshing and lively Crispy Thai Salad. As the party livened up and the dance floor filled we brought out our range of fresh fruit and desserts such as our ever popular Chocolate Torte.
When we cater for an event, we pride ourselves on providing an end to end service. At Hog Roast Brackley, we get to the venue early to ensure that when our guests turn up they don't have to wait hours upon hours to eat, and stay until every one of our guests are satisfied. We make sure that everyone goes home savouring the delicious food we provide!
On the day, the team at Hog Roast Brackley whizzed along to the hall in good time and got everything in order before the guests arrived. We had a great time meeting and chatting with the friendly guests as we served those who were eager to get stuck in to the food. We received some great positive feedback on the Sirloin Roast and the Yorkshire puddings, as well as a special shout out from DJ Fozzie Bear on the Chocolate Torte. As the night settled in we were pleased to make not just customers but friends who we hope we can celebrate with again next year!