At Hog Roast Kettering, we cater for any event, big or small. One day we could be catering for over five hundred guests and the next day only twelve, but no matter what, our service always remains the same. One man who knows this for himself, is Paul. Paul was recently at an event which we catered for and bore witness to the marvellous process of Hog roasting. Never before had he seen an entire pig cooked to such perfection, with succulent insides and crispy crackling on the outside.
Whilst attending the corporate event, Paul consulted our team at Hog Roast Kettering who were happy to help. He spoke with our Chef who talked through the process of Hog Roasting and explained how the basting fluids are dispersed throughout the meat as it turns, which is what makes it so juicy and tender! He was so blown away by our spit roasted pig that he decided he had to have the same at his son's birthday party.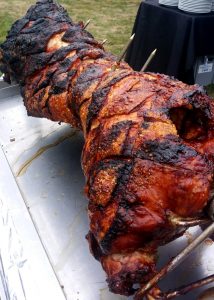 From a lavish corporate event to a simple backyard BBQ. Paul wanted to feed his forty or so guests with the mighty Hog Roast machine. Our team, this time a smaller crew, were on hand to help. He chose to have the Roasted Pig just like he'd seen at the corporate event we'd catered for and was delighted when he once again saw the pig turning on the spit, but this time in his own home. Likewise his guests marvelled at the wonder of the Hog Roast once they started to arrive, and even more so at the taste of the pigs in buns a few hours later, when it was feeding time.
Paul's son Jake had a marvellous birthday party, where he played games and got to be the centre of attention – at least for the most part that is, as our wonderful Hog Roast Kettering team and their wonderful pigs in buns, were the talk of the BBQ! Nobody realised they could have something so fancy in their home, for such an affordable price.
After the success of his BBQ, Paul is now considering buying a Hog Roast Machine of his own, so he can run his own parties. Of course, the team at Hog Roast Kettering will be there to help, should he decide to.