When Eamonn called Hog Roast Thrapston recently to see if we could squeeze him in to cater a last-minute party, we were pleased to say we could. We often have alternative options available in case we are fully booked, as we sometimes cater outside of our usual area to cover for other franchises and they sometimes do the same for us, so always check with us for late availability just in case.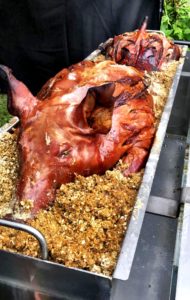 When Eamonn called us, he asked Hog Roast Thrapston to cook one of our high-quality, free-range hogs so that we could make pigs in buns for around 20 guests at his home. It would be a surprise for his wife who had just been promoted and after her trying one of our hog roast centerpieces over the summer, he knew that it would be the perfect food for this special occasion too. We cater all-year-round, even outdoors in the snowy winter if needed, so a chilly Autumn gathering would not be a problem for our professionals.
Our team of two arrived at the couple's home while Eamonn's wife Melanie was out for the day, and we set up in the back garden, ready to prepare the meat before cooking it slowly for several hours. Preparing the meat from scratch means scoring it all over, covering it all over with water to keep it moist (as there's nothing worse than dry meat) and then rubbing in plenty of salt, which means we get lots of crispy crackling from the skin. Once the prep process was done, we simply had to turn the machine on, set the temperature low and keep an eye on it as it cooked.
Four hours later and the hog had been sizzling away nicely and it was time for a rest before carving. As Melanie was due home, the guests had all arrived and were waiting to jump out, shouting, "Surprise!" and meanwhile, Hog Roast Thrapston kept busy preparing fresh salads, slicing the bread rolls and making sure the condiments, stuffing and apple sauce were all ready. Finally, by 2pm, the special guest was home, and once she was over the shock, it was time for us to serve up some lovely grub.