Hog Roast Rothwell catered Nancy's birthday earlier today and we had a swinging time while we prepared, cooked, and served some extremely tasty food. She told us a while back when she booked that the party would be optional fancy dress, with guests invited to wear clothes from the 1930s, which was when she was born, and she would also be having a swing band. We love catering all kinds of events but this one really sounded like fun and our team wanted to make an effort to look the part, too!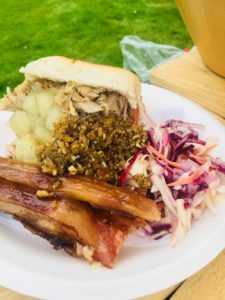 For her 75th birthday party, Nancy asked us to make her and her fifty guests our famous pigs in buns (which you may know as hog roast rolls), which she had enjoyed last summer at her grandson's wedding. We often serve our pigs in buns at all types of occasions, from weddings to christenings, corporate parties to school fetes, and so much more and they are loved by many. To make them, we prepare the meat by scoring it all over and adding plenty of water and then salt, then cook for hours and hours until we get a crispy outer, full of crackling, and a moist and tender middle. After the meat has had a rest, we carve away and fill fresh, floury bread rolls and wraps with bits of meat and crackling, top with our own-recipe apple sauce and stuffing and then serve. And it's guaranteed you'll be back for more!
On the day of Nancy's party, our Hog Roast Rothwell chef and team members set up our equipment at the venue, in the lovely hotel grounds. We wore smart 30s-style clothes and tried to keep them clean as we prepared the food! The setting was stunning and from the time we got there, there was swing music playing in the background to get us in the mood. Before long, we had a beast of a hog roasting away, slowly but surely for hours.
Later on in the day, once the guests had started arriving, and looking very dapper themselves, it was finally time for Hog Roast Rothwell to feed Nancy and her hungry guests our sumptuous pigs in buns, while the band played on.