Recently, the Hog Roast Peterborough team were hired by a local client to cater at their beautiful wedding reception. The reception was for the newly wed couple, Vincent and Nicole. The event was hosted at the Club Caliente at a local centre in Peterborough and the venue looked fantastic for the reception.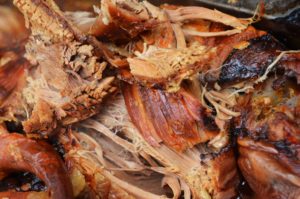 The classic hog roast menu was selected to be served to the couple's guests. The hog was slow roasted on a spit inside one of the Hog Roast Peterborough's modern Hog Master roasting machine which helped to cook the hog evenly to produce crispy crackling. The meat was served on a buffet in bread rolls and wraps with apple sauce and homemade stuffing. As an alternative to the meat, a vegetarian option was provided which consisted of grilled vegetable and hallomui skewers which were served with pitta breads and a tzatziki dip. The wedding reception menu was to be served to eighty people and so it was important that the Hog Roast Peterborough team maintained great quality standards across all of the food served.
The buffet was served between 4:30 and 5:00 pm as an evening meal service so it was also crucial that all of the guests were served their food at the same time. In addition, as the food was to be served as part of the wedding's schedule, it was very important that all the food was ready exactly on time so that it did not hold up the evening entertainment and dancing at the wedding. The fantastic flexibility of the team and the preparation on food on site means that they are perfect for any event from serving quickly in a short time period to keeping the food warm over a long period of time so guests can return to the buffet table. The service was led by the Hog Roast Peterborough team's Head Chef, Ben, who oversaw the service and ensured that everything went to plan. In addition, he professionally carved the meat and ensured that the buffet looked beautiful for the bride and groom with the fantastic hog centrepiece.