When Kenneth booked Hog Roast Olney for our corporate hospitality catering a while back, he had been recommended to us by business colleagues who had loved our hog roast rolls. Having fancied pigs in buns himself for a long while, having never had them before, he also knew a traditional centrepiece hog roast would be ideal for the event he was hosting at his business premises, but he told us he was concerned about any guests who either didn't want to eat it or who couldn't, due to dietary requirements. When we told him about all the various options we can provide, including catering for vegetarians, vegans and guests with either a gluten intolerance or allergy, Kenneth was even more set on the idea of having us cater.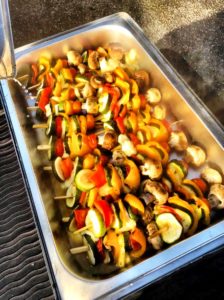 So for this function, Kenneth wanted Hog Roast Olney pigs in buns served to most of the 80 guests, but asked us for a gluten-free option. We can actually serve pigs in buns to these guests too, just with special bread rolls, as everything else is already suitable; this surprised Kenneth and he thought it would be a great idea. Additionally, he wanted to make sure that any vegan or vegetarian guests would be catered for, and he selected our veggie skewers to be served, albeit without the usual halloumi cheese that we add to the vegetarian ones, which meant they would be suitable for all instead.
It came round to the day of the event recently and our Hog Roast Olney chef and assistants arrived at the venue bright and early, ready to set up our equipment inside one of the large loading docks, so we could keep out of the rain and also serve the guests there. We prepared and roasted a large hog for hours on end, and nearer the time of service, we grilled the veggie skewers that had plenty of mushrooms, baby tomatoes, red and yellow peppers, red onion and courgette slices. While the meat rested, we prepared the ingredients for the pigs in buns, including our own apple sauce and stuffing, and the fresh bread rolls and wraps, as well as some gluten-free bread rolls that we kept separate, and then finally we could carve the meat as the guests queued up for some of our lovely food.