While you may well know Hog Roast Wellingborough for our namesake food, the traditional hog roast, we can and often do cater with much more too. Whether you are thinking of an informal barbecue or spit-roast or a formal event with several courses and a drinks service, we have plenty of options to satisfy you and your guests, and that's regardless of personal tastes or dietary needs. At a party that we catered in Finedon recently, we actually covered both of these elements, as you'll be able to see.
Kirstie asked us to cater for 80 people at the Bell Inn, with our popular Southern Slow Roast Menu. This amazingly versatile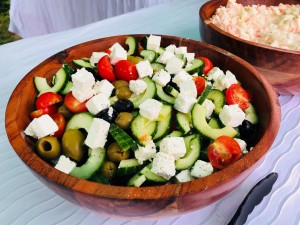 menu gives our customers several options, including three main meat dishes and four side dishes in total, as well as a veggie option. The meats you can choose from include barbecued pork butt, Texan 24-hour beef brisket, Cajun-spiced whole roast chickens, fall-off-the-bone Louisiana sticky pork ribs and Creole pulled quarter of spiced lamb. All of these meats are marinated beforehand and then roasted 'low and slow' for hours and hours, until we get incredibly tender meat that melts in your mouth.
Kirstie asked us to cook our barbecue pulled pork, lamb and beef brisket, to be accompanied by a Hog Roast Wellingborough classic mac and cheese, homemade coleslaw, a Greek salad with feta cheese and olives, and Cajun-spiced sweet potato wedges, as well as a vegetarian option of veggie skewers. Our skewers feature pieces of halloumi, which can be left out to be suitable for vegans instead, as well as several vegetables such as mushrooms, courgette, mixed peppers, and tomatoes, and for this event, they would also be Cajun spiced.
When our Hog Roast Wellingborough Catering Manager Ben and team member Beth arrived at the Bell Inn for this event, the weather wasn't great but we had our trusty gazebo to protect the lovely food that we made fresh on the day. After slow-roasting the meat for a few hours, we cooked the skewers, mac and cheese, and wedges, prepared the salad dishes and got the sauces and bread rolls and wraps ready, and it was finally time to serve the hungry guests.