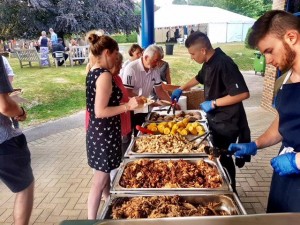 You may not know that here at Hog Roast Silverstone, we sometimes cater outside of our usual area but we can and often do, either because a customer has requested us to or to cover for another of our franchises. Recently, we were asked to cater an event at Bethany School, which is in Goudhurst in Kent. Bethany School is an independent co-educational day and boarding school which was established in 1866. With pupils from more than 20 countries, Bethany School has a rural campus in the heart of the beautiful Kent countryside, so we looked forward to the event and providing plenty of our delicious food on the day.
Though they are our fabulous specialities, Hog Roast Silverstone offers much more than hog and spit roasts, and on this particular day, we would be serving our highly popular Southern Slow Roast Menu, featuring various meats, including pork butt, spicy whole-roasted chicken, and 24-hour beef brisket, to be accompanied by jacket potatoes and corn on the cob for 80 guests. With this menu, our customers can choose from several meats, so instead of the pork, chicken or beef, you can choose Louisiana sticky pork ribs that fall off the bone or Creole pulled quarter of spiced lamb instead, and there are more accompanying sides to choose from too, such as coleslaw, a seasonal green leaf or Greek salad, mac and cheese, or sweet potato wedges, and there's even a vegetarian option too.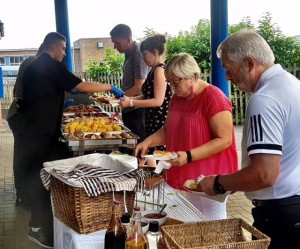 We would be serving our food in the evening, so Hog Roast Silverstone arrived hours before, on a sunny afternoon, in order to start preparing the meat to be cooked. We had already marinated the meats in our secret recipe rubs, but they needed to be slowly roasted at a low temperature for a few hours before they would be ready to devour. The huge marquee tent was already up for the guests and we just had to set up our gazebo and equipment and start cooking. By 8.30pm, it was time for us to serve and the guests began to queue up for a taste of meaty heaven.